Gagba Nation Victory Party Sets to Roll on September 8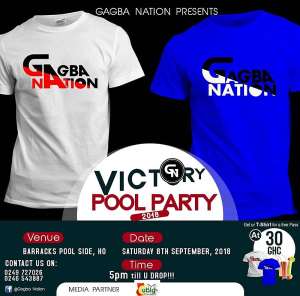 Ho, the capital awaits with bated breathe as Gagba Nation gears towards rolling out the long precipitating party of the year dubbed, Victory Party.
Hosting at the military barracks on Saturday the 8th of September, the party threatens to be the biggest celebration to ever hit the capital this year.
All one needs to be part of this historical event is a Gagba Nation T-Shirt which is sold for just Ghc25 and one is assured of entry, food, drinks and swimming if one desires.
Speaking to the president and the orchestra of the event Foreigner, he noted that the party is a social event created in the attempt of uniting all students under one umbrella in the region and while at it, afford patrons a very exhilarating experience.
Heads of the organizing team, Apisky and Bone also popped by and assured prospective patrons that an array of high-profile musicians and DJ's from across the country will be in attendance to treat revers to guaranteed crowd moving and pleasing songs and performances.
To defray wrong perceptions, the president also used the opportunity to reiterate to the general public that GN is not a group appropriated to RCNs alone but to all and sundry. He ended by encouraging everyone who would like to have a good time Saturday evening to make it a point to pass through because a great deal of classic entertainment is in store for everyone on the night.
For your Gagba Nation T-Shirts, kindly contact Foregner on 0261117883 and any other info about the party.
A 2018 Submission According to Felix G - Yhakubu