Nii Dowuona Owoo set to release "The Power of Holy Spirit" Album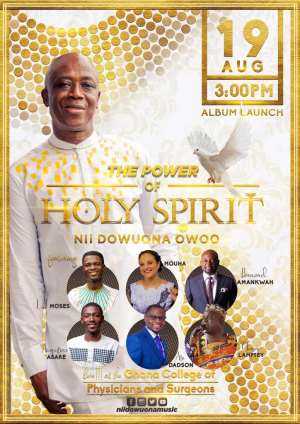 Gospel musician Mr Nii Dowuona Owoo has a good news for his fans and all those who support him. The "Abraham Nyame" hitmaker has announce the release for his first album since he entered into the music scene. The album which has 7 songs will be release on 19th of August 2018 at the Ghana College of Physicians and Surgeons exactly at 3pm.
In an interview with ParryNation Breaks he said the album name was an inspiration he haBiblem the bible, Romans 8:11 which he quoted, "And if the Spirit of him who raised Jesus from the dead is living in you, he who raised Christ from the dead will also give life to your mortal bodies because of his Spirit who lives in you".
"The Power of The Holy Spirit" speaks of nothing but how wonderful God almighty has been to him as he had an encounter with him. He also dedicate the album to the family and everyone who has sacrificed to his success.
The "Power of The Holy Spirit" features great arts with the likes of L.b Moses, Mr O, Shelter and many others. According to Mr Nii Dowuona, it took him about 6months to put this album together and this explains the time and energy invested into this great work.
Mr Nii is assures to break all barriers with the album "The Power of The Holy Spirit" as he got artiste like Ato Dadson, L.b Moses, Mouha, Bernard Amankwah and many others passing through. All are expected to come support him as he launch the album this 19th of August.