Rap Icon Wan-O Thrills Fans @ Tidal Rave Concert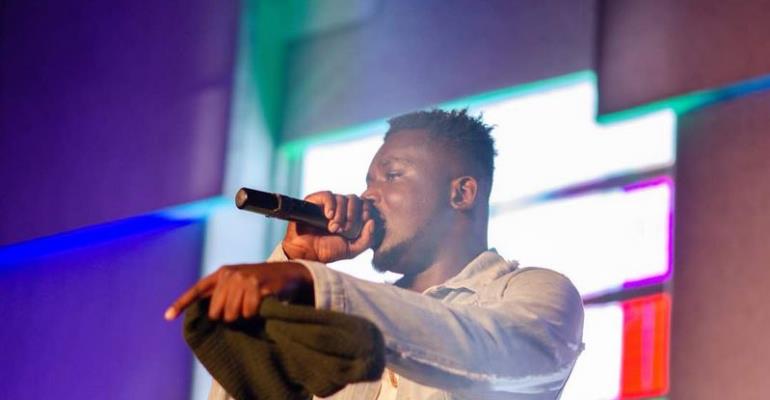 It was, as expected, a packed Saturday night as thousands of music fans filled the Kokrobite Beach in Accra for Tidal Rave 2018. Fast becoming Ghana's biggest beach event, Tidal Rave had a whirlwind line-up of music stars including rising rapper, Wan-O who left fans clamouring for more.
Themed 'Bring Out Your Best' this year, Wan-O asserted his rap authority with a number of his songs at the much hyped beach concert's seventh edition. Performing his songs including Gbelemo to the funky and wild ravers, Wan-O laid bare his rap prowess and proved why his impact will be greatly felt in the music industry as time goes on.
Surprisingly, with this being his first performance at Tidal Rave, Wan-O's definitive performance elicited a roaring response from the massive and diverse crowd of beach revellers.
Wan O emerged from backstage in a coordinated fashion, as the crowd and the DJ took turns to churn the lines "When I say Wan, you say O.'' Appearing on stage with a ski mask, Wan-O put the crowd in heightened suspense as his controversial track 'King' blared in the background.
Right after, Wan-O took off the ski mask and dished out a line-up of explosive tracks as the crowd's excitement grew stronger by the minute. He proceeded with his track 'Rapper of the Year' and replaced the original chorus with a verse that got the crowd engaged in the performance from the onset.
Wan-O ended his performance by wowing the crowd to sing along with the chorus of his latest and popular track "Gbelemo". In less than 20 seconds, the crowd were hooked onto the lines as they shouted the lines and jumped in excitement along with him.
By the end of Wan-O's convincing performance, fans were eager for more of the show-stopping and extraordinary moments the rapper had created on stage, living up to the hype of the night.