Odo Wahala: KSM Unveils New Court Drama Series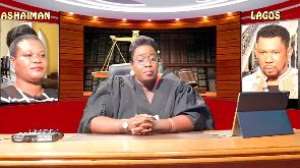 Ghanaian satirist Kwaku Sintim-Misa (KSM), will be starting an electronic court drama series next month.
According to him, the series dubbed 'Odo Wahala,' will target the issue of conflicts in relationships.
The themes of the series will be spiced up with humor to make it easier to understand and relate to.
'Odo Wahala' will blend Twi and English languages to reach its target audience.
Yaa Anima Misa Gyampo will play the role of the judge.
The judge's control of the "courtroom", driven by her no-nonsense attitude, combined with her use of innovative technologies to reach to her clients, distinguishes the series from all other court drama series currently running on TV.
"The uniqueness of 'Odo Wahala' is that neither the defendant nor the plaintiff is required to be physically present in the courtroom," KSM disclosed.
"This is a fully electronic platform where the judge sits in the studio/courtroom and connects with the defendant and plaintiff who are in a different location via various digital platforms including mobile phones and Skype. In effect, the justice system has gone digital in Ghana," he added.
'Odo Wahala' is produced by Sapphire.