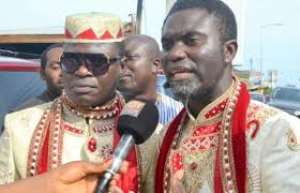 After the introduction of Gollywood as the new name for the Ghana Movie Industry, many Ghanaians bashed Richard Mensah, president of the Film Directors Guild of Ghana for lack of consultation before introducing the name.
Following the severe backlash the FDGG received from the public, Richard and his team retreated Gollywood in a live interview on Zylofon FM.
However, the backlash still continues even after, Richard Boateng and the FDGG have been tagged as cowards.
Speaking to Sammy Flex of Showbiz Agenda, executive member of the guild, Haruna Seidu Soale, popularly known as Zoree has denied that, they retracted Gollywood out of fear.
Contrary to popular believe that they were bullied into making their decision, Zoree says they reneged because their good intentions for the industry was perceived as evil.
He says several bodies and individuals in the movie industry disassociated themselves from Gollywood, hence the name could not stand.
Zoree says the FDGG's aim is to give Ghana's movie industry an identity since on the international front, credit for Ghanaian movies are enjoyed by the Nigerian movie industry, Nollywood.
"Our industry has no identity. When you travel to other countries, our movies ate tagged as Nollywood movies", he said.