Cwesi Oteng Out With 'My Defence'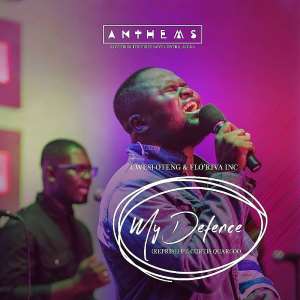 Award-winning Ghanaian Gospel recording artiste, Cwesi Oteng, is out with a brand new single titled 'My Defence' off his highly anticipated 'Anthems' album. According to the artiste, 'My Defence' is the last prelude single to be released before fans get to hear the entire album, which is now slated for release in September 2018.
'My Defence' is a deep song of worship and faith and is already generating buzz on the on social media where the artiste had rolled out the release of the song teasing fans with snippets. The song was released in two parts – 'My Defence (Part 1)' and 'My Defence (Part II Reprise)' which features his protégé, Curtis Quarcoo, an outstanding budding vocalist from his Flo'Riva Inc music group.
According to Cwesi Oteng, '' This song, 'My Defence', is psalm of faith and confidence in the name and personality of Jesus, which is mighty to save and deliver. It is an anthem of refuge and habitation, hope for the lost and broken-hearted, and deliverance for the oppressed. The Lord your God will come to your rescue and defence when you call on Him."
'My Defence' is the fourth prelude single off 'Anthems', a joint album by Cwesi Oteng and his Flo'Riva Inc band and singers. The album is expected to be a landmark gospel music album from Ghana that will be celebrated at the global stage as the album's prelude singles – 'Next In Line', 'Great Are You Lord' and 'With Everything' – are enjoying rotation on celebrated radio and TV platforms across Africa and Europe including TBN in Africa, Trace Gospel, Premier Gospel UK, ABN TV & Radio, Wazobia FM, Salt FM UK, etc…
Get 'My Defence' here as a free gift: www.cwesioteng.com
Watch the official music videos for 'My Defence' here:
My Defence I:

My Defence II (Reprise):