Watch: Yale's Whiffenpoof acappella group Sings On Joy Morning Show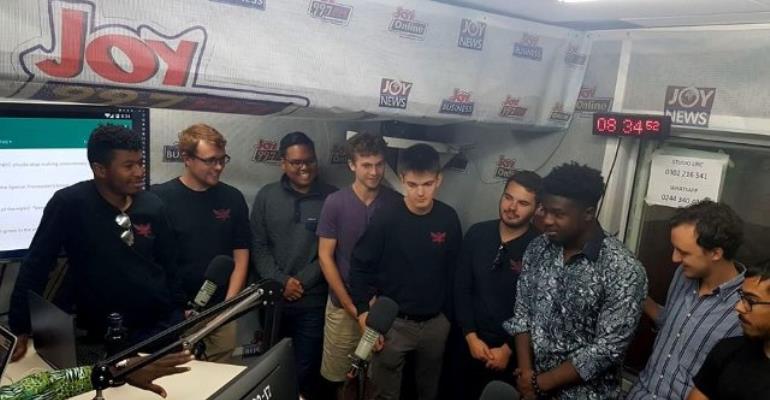 Music, they say, is food for the soul and on Friday's edition of Joy FM's Super Morning Show , melodies from the world's oldest collegiate acappella group – Whiffenpoofs - from Yale University cemented the meaning of the phrase.
Like waves filling holes in beach sand, the soothing sounds of the 14 young men, in an effortless piece of classical music, filled the air in the Joy FM studios and warmed the hearts of many listeners to set a lovely tone for the weekend.
Each year, 14 of the most talented senior Yale students are selected to be in the Whiffenpoofs and today, the group has become one of Yale's most celebrated traditions.
A brief history of The Whiffenpoofs
The Whiffs have for over 100 years toured the world with acappella rendition of all genre of music, including their own songs.
They sing a diverse repertoire of vocal jazz, folk, pop, and Broadway hits from across the decades, and perform more than two hundred concerts each year.
All 14 of them are undergraduate students and take a year each of their academic activities to pursue, perhaps, their first love, music.
Video: The Yale song
This year's summer world tour will take them to about 21 countries across the globe. Each year as part of their tours, a member's home country is visited and this year, Ghana was part of that list because of Kwasi Enin.
Remember the Ghanaian boy who was admitted to all eight Ivy League schools in the United States in 2014? Yes, that's Kwasi Enin and he is part of the group.
Video: Whiffenpoofs rendition of Holding On
Before their performance for former president John Agyekum Kufuor Friday afternoon at his residence, the group stopped by Joy FM , and turned the Super Morning Show into a mini concert.
They will also be performing for the Yale alumina in Ghana this evening.
Their music charmed Super Morning Show host Daniel Dadzie and for a moment, he forgot he was actually at work, not a music concert.
Video: I'm not the only one cover
Animwa Anim Addo couldn't help. She asked for a personal performance which was perfectly executed.
Video: Jazz Standard 'Nature Boy' performed by The Whiffenpoofs