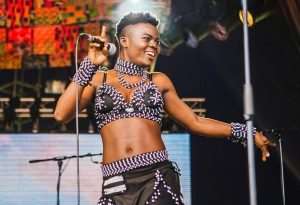 Wiyaala, one of Ghana's finest music exports staged a spectacular concert at the New World Passover Festival in Dimona, Israel.
Award winning Ghanaian band, Patch Bay, provided a perfect backline to the singer's energetic performance.
Fully dressed in white linen and with her 'yogiri yogiri' hairstyle, Wiyaala began with a new song, 'When The Lord Gets Us Ready,' which starts with an eerie chant and climaxes with an affirmation of God's gifts with which men and women can positively impact the world.
For more than an hour, her set included evergreen hits such as 'Tinambanyi,' 'Sun & Moon,' 'Africa,' 'Dannu,' 'Siiko' and a cover of 'So Real (in Jerusalem).'
The soul-funk classic had the audience singing along as Wiyaala invited the children on stage to dance with her.
About New World Passover Festival
The New World Passover is an annual festival celebrated every May by the African Hebrew Israelite Community in Dimona, Israel.
The festival commemorates their group leaving America, where they felt captive in the 1960s, and their arrival on the shores of Israel.
The festival began 40 years ago when their leader Ben Ammi Ben Israel led them first to Africa and then to the shores of Israel where they arrived in May 1968.
They celebrate both the ancient Passover, which happened last month, to honour their past and ancestors, as well as the New Passover to honour their own triumphs.
The celebration happens every May, over a two day period, in which family members join invited guests to celebrate, pray, eat, and dance.
Guests from Ghana, Kenya, South Africa and the United States descend upon the Negev for the two-day celebration.