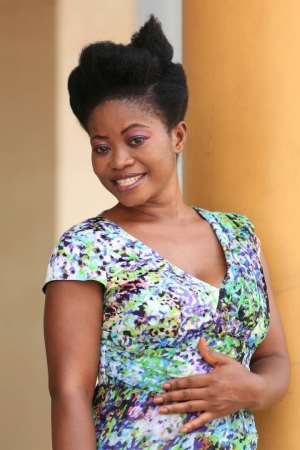 Ghanaian Actress, Nora Frimpong Manso has added her voice to the large number of Ghanaians who have expressed disappointment over Moesha Boduong's utterances in an interview on CNN, describing her as a total disgrace to womanhood.
Moesha Boduong in an interview, "Sex and Love Around The World", show with hostess Christine Amanpour on CNN to discuss about what influence some Ghanaian women to date married men to make a living.
Moesha however revealed that, the economy in Ghana is what pushes Ghanaian ladies to rely on men for financial support.
She added that, she sleeps with married man to make money because the economy is hard in Ghana and does not make things easier for women to make enough money.
"Ghana our economy is such that you just need someone to take care of you because you can't make enough money as a woman here. When you want to get an apartment, in Ghana you pay two years in advance and I just started working, where will I get the money," she said.
Moesha's confession on CNN has sparked a large number of the Ghanaian populace bashing insults and criticisms on the actress.
In response to this, Nora Frimpong Manso described the 'Cocoa Brown' actress as a total disgrace to womanhood, which she has brought shame upon the whole nation.
According to the 'Striker' Nora Frimpong Manso, Moesha has been unfair, she has been firm and bold enough to sell Ghana to the outside world, how will one feel and reacts when their child trades in sex to take care of them and herself? but are married men above the Economy as well? The reader should meditate on this rythorical question.
"Moesha what about those young ladies working, starting their own businesses, Educating themselves, Making end needs, Those raising families? Yuh have the right to live your life whichever way it pleases you, but not to market Ghana to the outside world", she angrily said.
Nora Ur Majesty further lambasted the self-acclaimed celebrity as someone who has been offering herself to directors and Producers to land all her major movie roles.
She posted;
"Moesha Boduong is a digrace to womanhood. I know some lazy ladies may think she is right but just imagine ur child using sex to feed you and herself..This all means she has being offering herself to directors and Producers to land all her major roles in her Ghanaian featured movies
No wonder Mahama rejected you…"
#NoraUrMajesty.