Lydia Forson, Eazzy, Others 'Beat' Moesha Boduong For Her Comments On CNN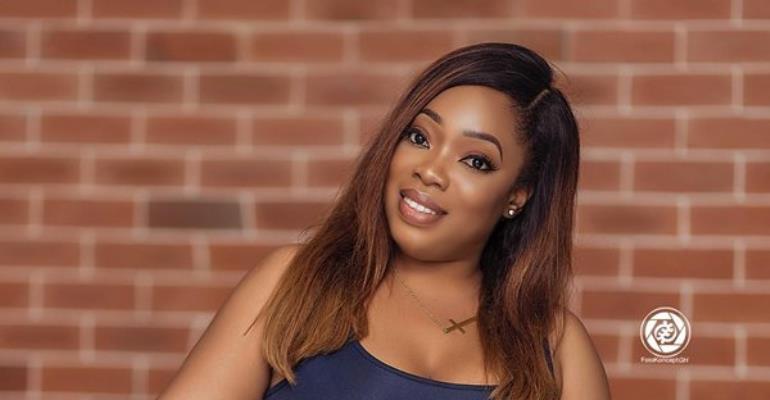 Social media has been set ablaze following actress and model, Moesha Boduong's interview with the CNN.
The actress's comments in the interview have generated a huge controversy on social media. She told CNN that her motivation for dating married men, just like other women in Ghana, is because the economy is tough.
According to her, "In Ghana, our economy is such a way that you need someone to take care of you. You can't make enough money as a woman here. Because even when you want to get an apartment, in Ghana they take two years' advance and I just started working where will I get money to pay?"
Stunned by Moesha's revelation, CNN's Christine Amanpour asked her "are you basically telling me that you are having sex with this guy to pay your rent?"
Moesha responds, "Because he can afford to take care of you. He takes care of me, my financials, my apartment, my car, my rent everything."
Social media is on fire Ghanaians and well-known personalities including actor John Dumelo, musician Eazzy, DKB, Lydia Forson and model Afia Odo sharing their views on the comments.
See some of the reactions below:
School- Sex for Grades.
Work - Sex for Employment.
Relationship- Sex for favours.
Let's not pretend; at nearly every phase in a woman's life, sex is often used as a condition of advancement, usually set by men in control of the means to this.
That's the real conversation here. — Miss Forson (@lydiaforson) April 12, 2018
Do you agree with what Moesha said? Some women sleep with men for money because the economy is hard? — Mr Dumelo (@johndumelo1) April 12, 2018
I wake up at 4am every morning to get to work for 5:45 am leave at 10am to come back for 6pm and leave at 10pm. Not all of US have to depend on a man for financial stability. — efiaodo (@efiaodo1) April 12, 2018
Now that we've heard Moesha's side of the story can we get her Sugar Daddy's side too. Who knows it could be your father 😂😂🤣 — Nathaniel P. Tollo (@yaw_perucci) April 12, 2018
What the hell did i just watch ! Im burying my face in shame . No we don't have an economy that makes it okay to sleep with men because they will pay your rent n take care of your financial needs ! We have an economy where our mothers worked extremely hard to train us with ... — EAZZY #POWER Video is Out (@Eazzyfirstlady) April 12, 2018
good morals to work hard towards a decent future ,to support our men and take care of our families and children . Just like they did and hopefully better.many mothers and single mothers did this with pride ! Without thinking the only option is sleeping with married man for money — EAZZY #POWER Video is Out (@Eazzyfirstlady) April 12, 2018
Such an insult to all hardworking girls and independent women . You sit with #ChristianeAmanpour and talk like this ? Knowing your message is to the world ? And you blame on Ghana Economy? You Sell Ghanaian women this shallow and materialistic? Smh 🤦🏻‍♀️🙆🏽‍♀️🤦🏻‍♀️ . — EAZZY #POWER Video is Out (@Eazzyfirstlady) April 12, 2018
There were 3 women sitting there, Amanpour who dodged bullets and bombs to get where she is, the nail technician who's dating a single guy and working to secure her bag, and there's Moesha who pops the pumz to get her bills paid for. Its not the economy, its life choices. — HeadMistress❤ (@auntahraba) April 12, 2018
I really hope this Moesha interview won't end at a self-righteous rant but make us have honest conversations about how hard it is for women to get a job/promotion/pay raise on merit & also truthfully engage the statistics on how women have higher poverty and unemployment rates . — Positive Energy Only (@FatimaDerby) April 11, 2018
Hard working Ghanaian women who are busting their asses to put food on the table deserve an unqualified apology from Moesha. Not every woman in this county depends on a man and instagram likes for survival.. There are hardworking women out there making money moves!! — Kwadwo Sheldon (@amoaphoGh) April 11, 2018
Christiane Amanpour asked Moesha Boduong: "what will happen when the man asks for sex and you are not in the mood"
Moesha said "You can't say no".
Me: How can you say no?After taking 2 years rent, a car, monthly allowance, how can you say no to him 😅😅 — Eugene Nyavor (@iamghlinks) April 12, 2018
Some of us women out here working hard tryna get a life and not depend on any man to 'take care of us'..... Moesha did us wrong. ðŸ˜' — sherry (@Ms_shaReefa) April 11, 2018
Watching the girls who tweet about not dating broke guys bash Moesha. This world lmao — Champ. (@___vaughan) April 11, 2018
By the way, who made Moesha the Spokesperson for Ghanaian women?🤦🏿‍♂️🤦‍♀️✋🏿 — Kwadwo Sheldon (@amoaphoGh) April 11, 2018
Moesha is sleeping with people for rent,car and dollars.... pic.twitter.com/g4BKbiBKoU — mutombo the CREATOR (@MutomboDaPoet) April 12, 2018
Check yourself before insulting Moesha for saying she sleeps with married men on CNN. ðŸ˜' pic.twitter.com/u9nWTnft5I — CNN DKB MOESHA 🙆 😂 (@dkbghana) April 12, 2018
So they gave #Moesha this international platform and this is what she had to say? Oh wow!!! pic.twitter.com/ywOET3HWha — BraBomba (@BadmanBomba) April 11, 2018
Moesha Boduong really went on CNN to say Women can't make it on their own? 🤦🏾‍♀️ 🤦🏾‍♀️🤦🏾‍♀️ — Marley® (@DjKessGh) April 11, 2018
I dont think Moesha know Christaine Amanpour.
This is crazy!!!!! — Amanda Jissih (@AmandaJissih) April 11, 2018
Seriously if you are a hardworking Ghanaian woman, Moesha's comment shdnt bother you. 3y3 yaanom mobile money fuo nu wey the matter dey dema there 😂😂😂 — Bra Kofi (@Kofi_Batsa) April 11, 2018
The girls bashing Moesha are funny. Majority of girls are in relationships for the financial benefit but I honestly haven't got a problem with it. — soldier (@mrHutchison20) April 11, 2018
So Moesha too is that how we reveal secrets 😫now people will be questioning how we got our iPhones and MacBooks eh😢 — DelademðŸ'ž (@_martha_daniels) April 11, 2018
Moesha didn't lie. Speak the truth & shame the devil — Queen🍂 (@Gyette_) April 11, 2018
See, there's so much Moesha raised that has tarnished the images of both men and women in Ghana. I am not sure most women dating men are just in for the "complementary" money. Neither are the men in general doing these supports for sex. — RAPHAEL O (@Rafurl) April 11, 2018
Pepperdem gang looking at Moesha Like ðŸ'€ðŸ'€ðŸ'€ðŸ'€ðŸ'€ pic.twitter.com/VIbB2jIWWw — The Greatest (@sammyforson) April 12, 2018
Y'all coming at Moesha as though what she's saying ain't true. Nothing in Ghana actually favours the female gender from property rights to job titles, unless u sexualize urself to attain those heights
But y'all gon sit here and act like it ain't true. #CNNPrime #CNN #Moesha — SolokokoðŸ'¶ (@royal_solo) April 12, 2018
Moesha said all our WCWs in Ghana can't have a decent life and need to have sex with men to take care of them. Wey generalization this? I really vex on behalf of my independent women 😂😂 — MANUEL (@mannie___ross) April 12, 2018
Lol Moesha is saying things based on what she's been seeing and probably what she goes through. It would shock you how many women are eating from a man's pocket in this country. — Amps❤ (@Nikki_Yaa) April 11, 2018
Jackie Appiah recently bought herself a Maserati, Joycelyn Dumas, Nadia Buhari, Yvonne Okoro and many others are working hard to make ends meet. Moesha thinks every lady is like her right? Nonsense! — Owura (@gh_landlord) April 12, 2018
The real question here is. 'Is Moesha lying?' She spoke her truth. That's bold if you ask me. But dragging all women is another. My daughter shall not have a smartphone ever. Finished. — POPITO (@JoelOrleans) April 12, 2018
So a lot of ladies were excited and could relate to "Sponsor" but aren't happy with what Moesha said?? Or sake of instrumentals no dey back?? pic.twitter.com/RDvPBPIjBd — Tha Short Black Boy Bloxx (@parhqwesie) April 12, 2018
An interesting #Ghana you live in #Moesha . In the #Ghana I live in, there are countless independent women who would laugh at the thought of needing a man to survive. @CNN we would appreciate more intentionality in choosing which #Ghana you would like to project. — Anna Addei (@anna_addei) April 12, 2018
Why is everyone making it seem like what Moesha Boduong said is a new thing under the sun. — FLEX A HOEðŸ'…🇬🇭🇬🇭 (@flex_a_hoe) April 12, 2018