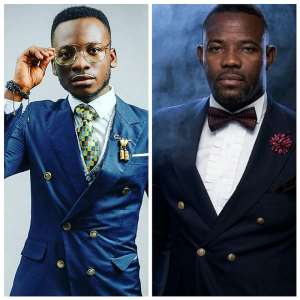 Prince of Ghana comedy, Lekzy decomic won the hearts of many at the just ended Easter comedy show, notable amongst them is celebrated Nigerian comedian Okey Bakassi.
Okey Bakassi was humbly introduced on stage by Lekzy Decomic to put the icing on the cake for the evening. After his performance he disclosed to the audience that Lekzy decomic is his favourite comedian in Ghana.
Lekzy decomic hosted the 4-hour event with ease as he plied his trade every time he walked onto the stage to introduce the commedian billed for the show.
Lekzy decomic ensured that the laughter mode of the audience was turned for subsequent comedians.
The Easter Comedy show seeks to promote Africa's finest comedians. This year's edition of the show was nothing short of spectacular and memorable performances as the billed acts kept the auditorium of Accra International Conference Centre roaring with laughter throughout the night.
Watch video below