New Date And Venue For Ebony Funeral Rites Announced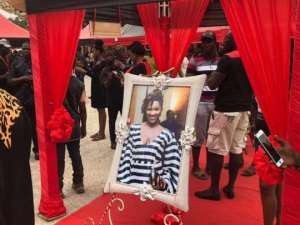 The family of the late dancehall queen, Ebony Reigns, has announced a new date and venue for her final funeral rites.
The burial is now slated for March 24, 2018, at the forecourt of the State House, Accra.
Therefore, the former date which was March 17, 2018, at the Independence Square has been changed.
The change, according to reports, came as a result of struggles by the family to secure the Independence Square as it had been booked by the Aglow Women's Ghana for an event the same day.
Meanwhile, Franky Kuri was laid to rest last Saturday, March 3, 2018. Lance Corporal Vondee Francis Atsu will also be laid to rest on Friday, March 23, 2018, at Mafi Adidome in the Volta Region.
The three friends met their untimely death on the Sunyani-Kumasi-Highway when they were returning from the Brong Ahafo Region after visiting Ebony's mother and other family members.
Ebony was born Priscilla Opoku-Kwarteng, and she died aged 20 years, a week to her 21st birthday.