Hot Video: Shatta Wale's Mother Organizes Women's Group To Pray Against Her Son's Death Prophecy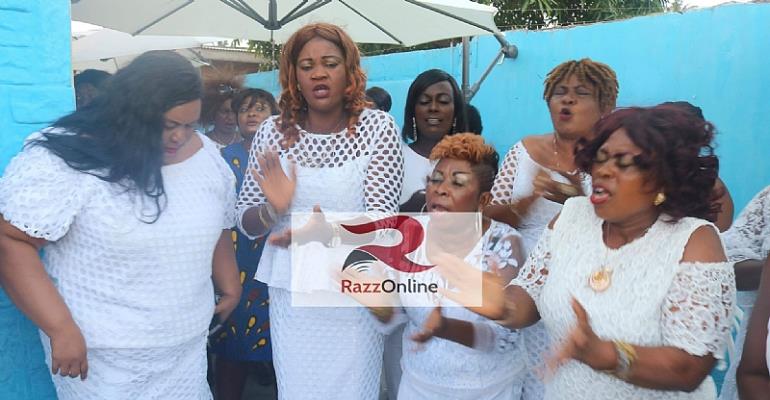 Mother of the multiple award-winning dancehall artiste, Shatta Wale, Mrs Elsie Evelyn Avemegah Saturday 3rd March, 2018 decided to go before the Lord in prayer together with a women's group called "Shatta Mothers" to avert the death prophecy.
This follows the prophecy by Prophet E. K. Mensah of Christ Vision Prayer Ministry that Shatta Wale would die by close of 2018
The self-acclaimed dancehall king who has been on the neck of religious leaders following the 'prophetic' pronouncements on his life has threatened to burn down churches if he does not die by close of 2018.
He described the prophecies and prophets as fake, indicating that the spirit that lives in him is bigger than those in the world.
Speaking exclusively to Razzonline.com at the prayer function, Mrs Elsie Evelyn Avemegah said: "I refuse that prophecy in Jesus name…that's why I am praying all over the whole Ghana…I have been to Volta region and have come to Accra praying for my son— and I trusting God that my son will never die…I want my son to be 102 [years]".
The intercessory program was held at the family house of the dancehall king at Dansoman(Banana inn) in Accra.
The most intense part of the prayer session is how Shatta Wale's mother together with Shatta Mothers who were clad in all-white danced to the popular gospel song 'Victory',sang by Nigerian gospel musician Eben, to signify victory.
Shatta Mothers, is a women's pressure group who give arms to needy in the society— with Shatta Wale's mother being one of the executives.
Razzonline.com brings you excerpts of the prayer session in the video here.