Why I Wear White Instead Of Black – Ebony's Father Makes Stunning Revelation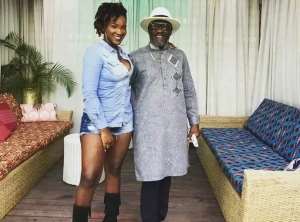 Ebony dear father, Mr. Nana Poku Kwarteng, has finally disclosed why he has been seen wearing white clothes instead of black, according to the tradition.
According to the grieving father of the late talented dancehall artiste, Ebony, his choice of white clothes is according to a custom of the Akans, states a report by Zionfelix.com
He explained that according to that custom, a father was supposed to wear white clothes if he was losing a child for the first time.
Therefore, Mr. Poku-Kwarteng's way of dressing was traditional and in line with custom and so there is nothing wrong about it, stressed the family spokesman.
The spokesman of the family further vehemently ruled out any connection of Ebony's father's choice of clothing to any form of ritual or occultism as had been speculated.
It is in this vein that family members of the late "Poison" singer have hinted taking some legal action against certain individuals who have made allegations against their daughter after her death.
Meanwhile, Ebony's one week memorial is on-going in Accra.
The family has announced her final funeral rites to be held on March 17, 2018.