Ghana Should Be Proud Having Akufo Addo As President - American Singer Rihanna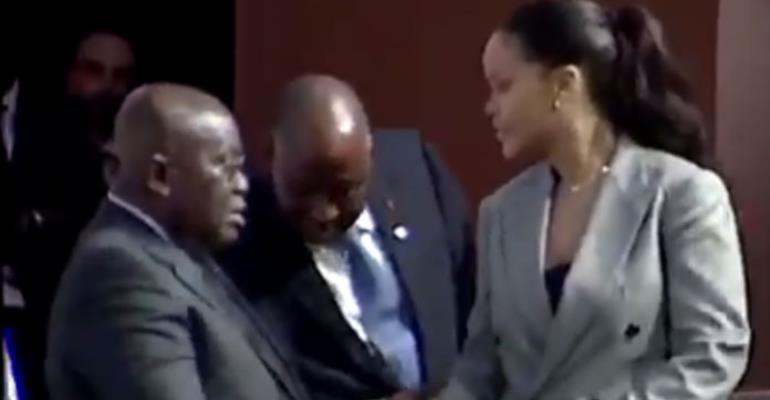 American pop star Rihanna, who is also the ambassador for the Global Partnership for Education, met some world leaders, including Ghana's President Akufo-Addo, at the GPE Financing Conference which took place over the weekend in Senegal.
After the fundraising ceremony, Rihanna and Nana Akufo-Addo shook hands to congratulate each other on their efforts in education.
The aim of the conference was to elevate the impact of access to education and raise funds for schooling in some of the world's poorest communities.
President Akufo-Addo has made education a priority of government and has already started the 'Free SHS' project in Ghana.
In his speech at the conference, he called for the need for the continent to fund its education, and one of the ways of doing that is by eschewing corruption.
"We cannot depend on other people to finance the education on our continent. I am saying that not to turn my back or to be ungrateful to all these important or noble people who have committed themselves to help, no.
"But, if we make our policy dependent on other people when their policy changes, we will suffer. But, if we make the policy for ourselves, then it means that, at all times, we will be in control of our own destiny."
On her part, the celebrated pop star in a bid to raise $3.1 billion to fund education for children in the world's poorest countries tweeted at leaders of Western powers, including the United Kingdom, France and Australia, asking them to pledge support.
She praised President Akufo-Addo Addo for his inspiring speech at the conference.
Rihanna had some kind words for Ghana's president after the event ended. She told a fan, "Your president was so well spoken and inspiring! He shook the room! You should be proud!"