Shatta Wale Breeding Assassins Who Will Assassinate Him Soon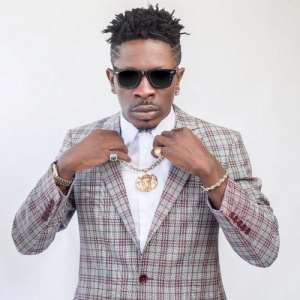 In 2002/2003,through the late Terry Bonchaka, I was able to meet Shatta Wale who was by then Known as Bandana.
The day I saw Shatta Wale, i said to myself; "This is a very humble and talented young musician with so much life in him". Frantically speaking, he was one of the few guys who were much closer to Terry I knew were going to excel in their music careers.
During that sphere of time, even though things were not going smoothly as he wanted ,Shatta Wale was always ecstatic with smiles on his face.I can quickly recall the day I warned him never to call me boss: he was very respectful.
Two months to the demise of Terry, he( Bonchaka) had featured Shatta Wale on a song titled 'Etuo"; infact, he really substantiated why he is known as the dancehall king today— he 'killed' the song.
Terry, who was amazed with the immense talent Shatta Wale had ,told me that, Shatta Wale was going to rule the music scene after his (Terry Bonchaka) reign as the then dancehall king.
Terry, was very confident about what he meant— but he was a little distressed about how Shatta would manage stardom when he finally makes it.
Terry's motive was that,Shatta Wale was a humble person but the kind of people that he will associate himself with were going to be his bale.
Shatta, shot up to fame in 2004 with his hit single "Bandana from Ghana".
His big break was in 2013 when he sparked some controversy against organizers of the Ghana Music Awards and with his "Dancehall King ' song that won him the artiste of the year award.
Terry Bonchaka's first prophecy came to being and today Charles Nii Armah Mensa Jnr, known on stage as Shatta Wale, is Ghana's most popular Dance Hall artiste.
Now what do we see? Terry Bonchaka's second prophecy has again come to light: Shatta Wale is now the leader of the Shatta Movement.
Ever since Shatta Wale tagged himself with Shatta movement, his character has changed drastically,his ways of approaching issues are not really executed properly.
Like any other serious business venture where there are competitors, being a musician could be compared to an organization where rivalry is eminent.
As musicians, each and every one has his or her brand to protect which makes them automatic competitors. Stonebwoy , Samini ,Tic Tac,Prodigal and Obrafour are all Ghanaian musicians but have different brands—so as competitors there is nothing amiss when one decides to protect his brand.
But is Shatta Wale toning the correct way in protecting his brand? .The 'Wumaame twi' hitmaker has build a bad brand for himself and that brand is inconsistency. He speaks about unity, but he is not stable in his dealings.
At the just ended S-Concert organized by the EIB group, at the Accra Sports Stadium, Shatta Wale over stepped his boundaries.
I wouldn't want to talk about how he fought Ghanaian DJs for playing Nigerians songs even to the extent of maligning legendary Hiplife super stars Tic tac and VVIP by accusing them of selling Ghana's birth right in terms of music to Nigerians, then sabotage fellow Ghanaian musicians like Ebony and Samini from performing at the S-Concert, because I know people would say the organizers and the stage managers are to blame.
But was it also necessary for him to spend over 2hrs on stage knowing very well that there were other artistes to perform?
Before his arrival at the stadium, i had an incongruous feelings that, something condescending was going to happen to him with regards to the people around him.
Immediately he got to the stadium cruising in a black Range Rover with a 2017 customized number plate, I decided to advice him on that, but was prevented by one of his bodyguards— even after telling him I was the manager of the late Terry Bonchaka.
Lo and behold, the unpardonable headline that characterized the whole event was when he slapped one of his bodyguards.
A fan mounted the stage whiles the 'Freedom' hitmaker was performing and tried to hold Shatta's leg, but was prevented by his bodyguard.
Shatta, then gave his bodyguard,Biggie Sparta a hefty slap that got his mask to fall.After realizing his mistake, Shatta has compensated Biggie Sparta with a motorbike.
.I'm not a prophet of doom like the Eagle Prophet, but after thorough deliberations and per the strange feelings I had,Shatta Wale is breeding assassins who are going to soon assassinate him.
Oh Yes, the truth is bitter but it's always better you point it out the way it is: My heart bleeds for Shatta Wale because, slapping your bodyguard in public and compensating him are the last things Shatta Wale should've done.
The 'Ayoo' hitmaker has set an extreme amateurish precedent among the people around him. Is he going to compensate everybody within his camp with a motorbike after treating them badly?
Shatta Wale is a great musician, an artiste who can really win Ghana's first Grammy, but he is not focusing on his music career but rather beating war drums.
He has lost the command and respect of his camp— Yes!,nobody should ever think the people around Shatta would forgive him for publicly assaulting Biggie Sparta.
No!,Jesus Christ was even betrayed.The war has just begun, but there's always a solution to every uncertainty.
Ever since Terry Bonchaka died, you've constantly paid tributes to him.You've exhibited your bodacious love for him
Okay, Shatta, before I ask you this important question, this is Reagan Mends(Online News Surgeon),the manager of the late Terry Bonchaka whom you claim to love vehemently and say has helped you in diverse ways just to make your career what it is today— did Terry Bonchaka disrespected the musicians he came to meet in the industry?
Your outbursts on Tic Tac,VVIP and Obrafour were uncalled for;You went too far,these are living legends who sacrificed a lot for our music industry.
You are an entertainer and a role model, your job is to entertain not to outburst on any little thing.
Since the day I started working at Hot 93.9FM and became the editor of Razzonline.com,i have used my platforms to defend and promote you on countless occasions even after calling me a big fool for advising you on how to approach issues.
Is about time you let your music do the talking ,and give room to your management team to manage you.
Well, I really like your 'Freedom' hit song; especially the beat..so feel free but, deliberate carefully on the advice I have given you because, I don't want you to die like the late Terry Bonchaka.