November 14, 2017
|
General News
Knutsford University College to host First College live Dance Concert "Annonymous on Fleek"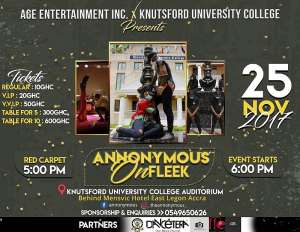 Annonymous, a popular college dance group at knutsford university college is coming out big this time with its first ever dance concert "Annonymous on Fleek" an evening of live dance concert, with exposure of different genre of dance, creating unity with the good rhythm of music, a night of real good music, rib cracking jokes, amazing performances and trail blazing dance moves,all in one night you can't afford to miss, a night of quality entertainment.
Annonymous dance to inspire,express feelings and entertain.
We dance cos that's what we love to do.
Annonymous is a group of talented dancers who come together from all African countries, to form a squad, they love to dance, have an undying passion for it. Along with an unknown personal identity or data, for the sake of those, who feel been not so bold and confident, should be a reason that will limit dreams.
The event will take place at the main auditorium of the university in East legon Accra. Organizers inviting all dance lovers to come experience new revolution.