13 October 2017
|
Celebrity
Let Your Angel Of Death Strike Any Policeman Who Has Taken Bribe Against Me – Afia Schwarzenegger Prays
Emelia Aryee / Modern Ghana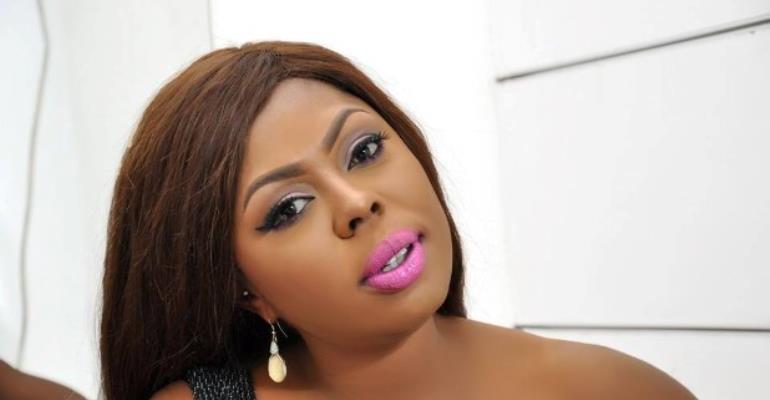 Ghanaian comedienne, and presenter, Afia Schwarzenegger is by far the celebrity who has consistently grabbed the attention of the media and general public in recent times.
The embattled "Queen of Comedy GH" is currently in court to fight off her "ex-husband" Mr. Abrokwa, for allegedly threatening her with acid, knife and releasing her nude photos to the general public.
However, Afia Schwarzenegger, born Valentina Nana Agyeiwaa, is obviously not happy with how her case is being handled by the Ghana Police, for that matter calling on God to intervene on her behalf with "an angel of death".
She disclosed in a social media post that she is aware that a big hand in the police service is interfering in her docket, meddling in the case with the aim of cheating her in favour of her "ex-husband".
According to her, the police have failed to bring forward the detailed facts of the incident in which her "ex-husband" stole her money, damaged her car tyres and threatened to deform her with a substance said to be acid.
A bewildered Afia Schwarzenegger further pleaded with the Greater Accra chief police offier who is in charge of her case, the Attorney General, the Chief Justice, female human right activists and all female lawyers to come to her aid in ensuring that justice is served her.
Afia posted on her instagram page Thursday morning saying:
"Dear God, you said u are the father of the fatherless and the strength of the weak....God I want to report Ghana Police to you...let your angel of death strike anyone that has collected anything to mess up my court case, I send your angel of death to whoever that thinks that I am Afia Schwarzenegger so someone can attack me n my family especially my 3 yearz child and go free in Jesus name. God strike that person and his family in Jesus name. Amen"
"My fellow Ghanaians, friends in the media and friends on social media, on the 30th of August I was attacked by my ex with "acid" n knife, he also stole my money of $2000 and 500 pounds, he slashed the tyres of my bmw x6, ALL these charges were not presented in court by the police. The CID on the case Charles Owusu Boateng in the company of a female police officer followed me to my house n my bedroom to take pics of all these yet these charges were not presented in court."
"I am reliably informed that a big hand n the police is interfering with my docket. I [am] pleading with the Greater Accra Jupol who is in charge of prosecution, the Attorney General who is also a woman, the Chief Justice, the 1st and 2nd [Ladies] of the land, FIDA Lawyer Oye Lithur, Gender Minister and All female lawyers in and outside Ghana to come to my aid and help so that the proper charges will be levelled against the [accused] person. Thanx. God bless our homeland Ghana"
Based on Afia Schwarzenegger's pleas to the media and well wishers, ModernGhana Entertainment wishes her well.
If indeed her claims about the Ghana Police are anything to go by time will tell.
Meanwhile, her court case against Abrokwa has been adjourned to October 31.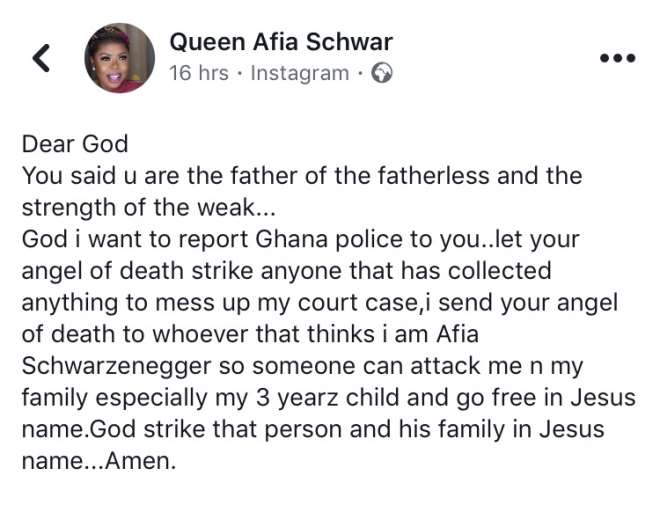 Afia's Post On Thursday Morning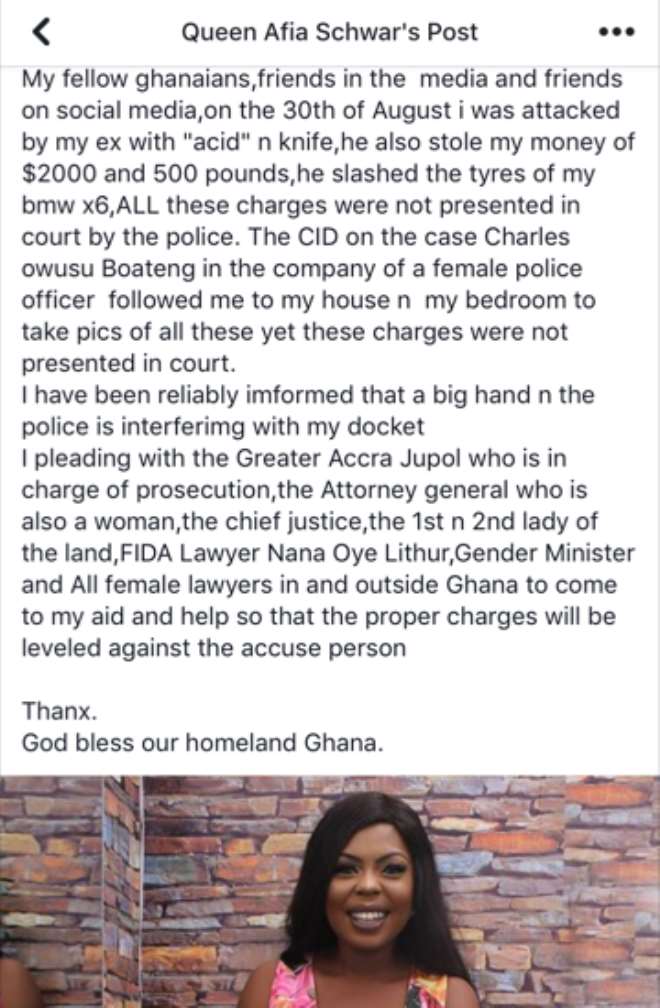 Post Continuation