'I Was A Sportsman Before Creative Arts –Alhaji Sidiku Buari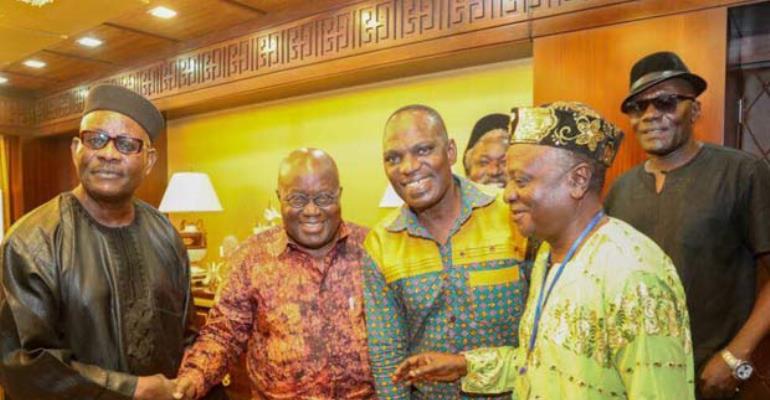 Former President of the Musicians Union of Ghana (MUSIGA), Alhaji Sidiku Buari, has revealed that before he became a musician and movie producer, he was also a dedicated sportsman who won several medals for Ghana.
He won a silver medal for Ghana in African Games held in Dakar Senegal in 1963. The same year, he represented Ghana in the West Africa Games held in Ibadan, Nigeria and won gold and silver in the 4×400 metres and 400 metre flat.
In 1965, Sidiku Buari was among the quartet who won the bronze medal for Ghana in the All African Games held in Congo Brazzavile.
Speaking in an exclusive interview with NEWS-ONE last Friday, he revealed that he took interest in the entertainment industry because of the passion that he has for the creative arts. He, thus, enumerated his contributions to the industry.
As a former president of MUSIGA, he ruled the country's musicians for eight years — 2000 to 2008. During his tenure of office, he did well by putting in place structures to streamline the activities of the stakeholders in the industry and renovated the office given to MUSIGA by government.
He mentioned that he lobbied the government to waive tax exemption on musical instruments which was granted during ex-President Kufuor's era.
According to him, in 2000 during the serial murder of women, MUSIGA led a campaign to help mitigate the menace with the release of an album titled 'Our Dear Woman'.
The following year, MUSIGA again released a song for street children titled 'Children The Future Leaders' with the Nation Partnership for Children.
"We managed to raise the then 35 million cedis at the launch of the song and the launch ceremony was performed by former President Kufuor on April 24 2001," he revealed.
Within the same year during the May 9 disaster, Sidiku Buari led MUSIGA and GBC to raise 85 million cedis for the stadium disaster victims.
Sidiku Buari, who is also a former chairman of the Copyright Society of Ghana (COSGA), stated that he worked tirelessly to make sure that stakeholders received their royalties twice every year.
His regime was able to put up its well-furnished office, which has become the main office of collecting society today.
Sidiku Buari was voted as the vice president of the International Federation of Musicians (FIM) in London in 2003, and he was able to make sure that the world musicians' body was able to help Ghana and most of the African countries. Through him, FIM helped MUSIGA in seminars and sponsored most of the meetings outside Ghana. He was also able to bring the FIM National Congress to Africa for the first time in its 58 years of operation.
Sidiku Buari, who is also a businessman and the owner of Sid Studio & Film Works and Sid Theatre at Dzorwulu, is one of the pioneers of movie production in Ghana with his first production, 'Ayalolo', showed commercially in all the cinema houses throughout the country.
This, he said, created opportunity for other movies to go commercial.
He has over 16 movies to his credit, and some of the movies include 'Ayalolo', 'Ogboo 1&2', 'Man Woman', 'Mr T.T', 'Jealousy', 'Who Is To Blame' among others.
He disclosed that based on his outstanding performance in the movie production at that time, Deutsche Welle sponsored him and the former director of NAFTI, Bill Marshal, and some selected past students of NAFTI to tour some of the African countries to share their experience in video movie production in Ghana.
Ghana was the first to start serious video production before any country in Africa even though it is now over taken by Nigeria.
Alhaji Sidiku Buari, as he is affectionately called, has won over 52 awards, including the State Award in 2007 to his credit.
While in the USA, he had contact with Radio Corporation of America (RCA) in New York and his first album 'Karambani' hit number 59 on the chat. He has since released five albums in USA.