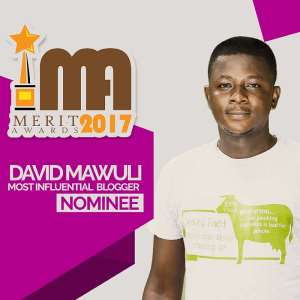 Pulse.com.gh Entertainment Editor, David Mawuli has landed a nomination at the first edition of Merit Awards.
David Mawuli, who has been writing for the past 7 years was nominated for the "Most Influential Blogger of the Year".
He will compete with NY DJ, Ameyaw Debrah, Zion Felix, Monte OZ and Jullie Jay Kanz for the statuette.
New school artistes; Yaa Pono, Dadie Opanka, Ebony, Pappy Kojo, Medikal, AJ Nelson, and Shaker were nominated for the "Most Influential Artiste of the Year" category.
Merit Awards is an award scheme designed to reward hardworking Ghanaian high school scholars in their respective fields and also to open young talented and influential students to education opportunities and entertainment platforms available around the world.
The award scheme also seeks to reward high personalities, influencers, art performers and writers who positively impact the youth of Ghana.
According to organizers of the event, Merit Awards 2017 , the award ceremony will come off on the 1st of September ,2017 at the Royal Lamerta Hotel in Kumasi and will see appearance of high profiled personalities and musicians as well. Below are full list for the most influential category.
Most Influential Artiste of the Year
1. Yaa Pono
2. Dadie Opanka
3. Ebony
4. Pappy Kojo
5. Medikal
6. Shaker
7. AJ Nelson
Most Influential Blogger of the Year
1. David Mawuli
2. NY DJ
3. Ameyaw Debrah
4. Zion Felix
5. Monte OZ
6. Jullie Jay Kanz