19 June 2017
|
Interviews
Personality Profile: A Time With Brian Ocansey (Monster)
Elvis Effah || Elvis1site.wordpress.com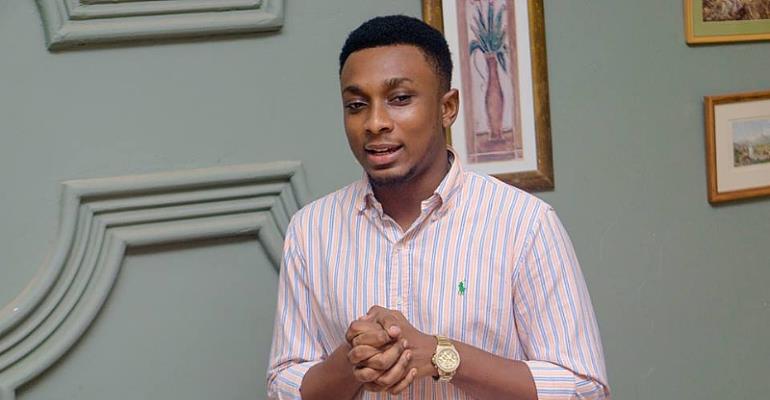 Brian Ocansey is a talented actor. He is being featured as Monster in the Yolo series. The series is designed to educate the youth about their sexual reproductive health. His name, Monster is an irony since his role in Yolo is totally different from what his name depicts.
The elvis1site.wordpress.com team caught up with him to interview him on his life and how he made it to Yolo TV series. We are happy to share the life of this exuberant and humble young man with you. stick to your chair like a glue as you read this piece.
Elvis1site: let's start on this note; who is Brian Ocansey?
Brian: he is a Christ-loving, calm, extrovert and an easy-going individual.
Elvis1site: growing up; where did you school?
Brian: from Holy Child R/C, I went to Presbyterian Boys' Senior High and currently at UCC.
Elvis1site: are you the only child of your parents? Or you have some siblings?
Brian: I have only one sister
Elvis1site: back to what shot you into fame; Yolo series. How did you start acting and why?
Brian: well, I never had a thing for acting. It all started with adverts. I have done four adverts so far. After signing a contract for an advert, a friend decided to go for an audition and I decided to go with him. So I did. So we had to audition because it was a dialogue and then I was called after a few weeks. That's when the whole thing actually started.
Elvis1site: are these adverts popular as YOLO? And if yes, can some of them be mentioned?
Brian: well, I did two OLX adverts, Vodafone and Coca-Cola
Elvis1site: wow… quite impressive
Brian: ha-ha
Elvis1site: meaning, you never had an original intention to act but you went to accompany a friend?
Brian: yes sir
Elvis1site: was that friend also selected for Yolo cast?
Brian: unfortunately, he wasn't.
Elvis1site: awww….poor him
Elvis1site: what programme do you read at UCC?
Brian: BSc. Information Technology
Elvis1site: how do you jiggle between your career as an actor and your academic life in UCC?
Brian: it's never been easy. But you see, the moment you know good timing and you put in place accurate measures, you tend to endure all hardship.
Elvis1site: has there ever been a time where acting conflicts with your academics?
Brian: tremendously, it really has. There were times when I had to skip quizzes to shoot and come back to write. It's all about sacrificing so it really conflicts.
Elvis1site: who/ what influences/ influenced your acting in Yolo TV series?
Brian: when I look at the fact that people are looking up to me in one way or the other
Elvis1site: how do you like to be managed? What sort of management style gets the best out of you professionally?
Brian: I believe it all comes with the manager. I believe I will go in for someone who is somehow influential in the entertainment industry. In that way, the person can scold me anytime I act unprofessional.
Elvis1site: what do you say is your peculiar style of acting? And what is that style?
Brian: I don't usually like the roles that will keep me relaxed. I love to challenge myself.
Elvis1site: how do you cope working with other team members on set?
Brian: well, it's got its lows and highs, negativity and positivity. It's a human
institution so you don't expect perfection. But on the average, it's been good.
Elvis1site: were you ever involved in any movie before Yolo?
Brian: this is my first feature, sir.
Elvis1site: how do you describe your first time on set?
Brian: bad, terrible and any other adjective that describes disgust.
Elvis1site: ha-ha…why?
Brian: I had never acted so I just didn't know what I was doing.
Elvis1site: no doubt, you are famous among your contemporaries. How do you intend handling the prospects of fame and the downfall that comes with it?
Brian: well, even though I haven't seen much of the disadvantages, I have learnt to adopt a strategy. I will relate well whenever people approach me.
Elvis1site: what have you stopped doing as a celebrity?
Brian: well, things which will reduce my decency.
Elvis1site: who is your role model in the movie industry?
Brian: the late Roger Moore has always been the factor. But in Ghana, it is Majid Mitchel.
Elvis1site: when will the Yolo series end? And what's the way forward after Yolo?
Brian: Yolo is a series owned by a company. Well, they might have an agenda of doing more. If so, since I have signed a contract with them, I will definitely have to adhere.
Elvis1site: focus on your career aspirations. Five years from now, where do you see yourself?
Brian: I wanna have an IT firm which will have an expertise in IT consultancy.
Elvis1site: finally, what advice will you give to someone who is aspiring to be an actor?
Brian: first of all, what is your aim of going into acting? If fame, forget it… you can be famous without acting. If money, then forget it because you can make money without acting. If passion, then go ahead. You will go far with it throughout your life.
Elvis1site: it's an honour interviewing you.
Brian: thank you sir.
[email protected]
[email protected] E lvis1site.wordpress.com