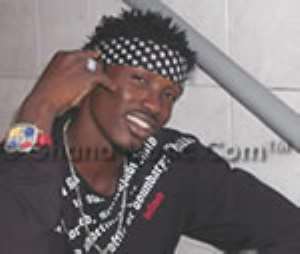 After years of hard work and out of the watchful eyes of the media, the 'Aletse Man' is out with his third album which he has named 'Kaa Bu Ame' literally meaning don't mind them.

Shooting video of the title track in East Legon which features the MOBO man himself Samini, Tinny says; 'I think it's time for the youth to keep their heads up and be focused in life, stick to what they want to do and make sure they do it and do it well.

The ever adorable Tinny twisting his hair whilst talking said 'this album is for the international market and not necessarily the Ghanaian market. This is not to say I wouldn't be concentrating on the Ghanaian market but my target is more international than local.

I am looking at entering the African music market with Nigeria and South Africa as the main targets.
The 'Kaa Bu Ame' album has 13 tracks on CD with 8 on cassettes. Some of the hiplife giants Tinny worked with include, Samini, Slim Buster and Okra.
Kaa Bu Ame' is expected to be launched soon though it is rumored that most of the tracks on the album have found their way to the homes of some hiplife gurus and some pirates.
If the video of 'Kaa Bu Ame' is anything to go by then Tinny supported by Samini, who is been, touted as the artist of the year come the next Ghana music Awards, would definitely make it big wherever it is played.
The collaboration between the two was tight and the locations and scene of the music video selected by Kpakpo adds more flavor and a professional touch to Tinny's new outlook.
Source: Weekly Fylla