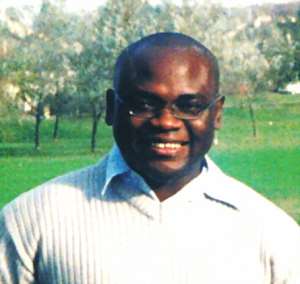 There was a time in Ghana, not long ago, when musical preferences were as polarized as political inclination, or even worse, support for Hearts or Kotoko. Many Ghanaians listened to Nana Kwame Ampadu, A.B. Crentsil or C.K. Mann. But the youth of the time, especially those in our educational institutions, even when they listened to "Agartha hwe menim" privately, liked to be seen by their peers to identify with black American music or reggae. So when we all had those Saturday nights in secondary school we loved so much, we did not play One Man 1000 or Obuoba J.A Adofo. We listened to Michael Jackson, Lionel Richie, Brass Construction, Earth, Wind and Fire, Bob Marley, Peter Tosh and Eric Donaldson.
There was George Darko, a man very few had heard about. He came and said, that if the thumping funky drum beat was what our youth craved for, then why not oblige their wish, and still sing our hi-life. "Akoo tse Brofo" was born and hi-life was never the same again. The youth took to the new style and were now happy to listen, not only to George Darko, but to Rex Gyamfi, C.K Frimpong and many other musicians, mainly within the diaspora, who came back to impress us with the new synthesiser sounds then in vogue. Daddy Lumba was to follow that trend and has become arguably the most successful exponent of that style.
There was Reggie Rockstone, a man very few had heard about. He came and said that giving the youth the thumping funky drums and the synthesiser sound was not enough. We could actually rap our language in the same way the MC Hammers of America were doing at the time. Hiplife was born and singing was gone. The Lord Kenyas and S Does were to follow.
There was Okyeame Kofi and Okyeame Kwame, who in releasing Maasan Aba, proved to all and sundry that a combination of rap and local hi-life rhythms worked exceedingly well. Hiplife was thus given a broader appeal and Ghanaians from all walks of life began to enjoy it. The rest, as they say, is history. The days when musicians like Abrantee Amakye Dede and the late Senior Eddie Donkor had to serve apprenticeships for many years before going alone are long gone. Young intelligent people are coming straight out of our educational institutions and going straight into music. Tic Tac, Obuor, Ofori Amponsah and Obrafuor, to mention but a few, have raised the musical bar to dizzying heights.
There have been a few musicians over the years who have refused to follow any trends and stubbornly maintained their own styles. Kojo Antwi's music defies classification. It's just bloody good music. Amakye Dede's music is hilife but the style is unique. Ben Brako came at the height of the bugger hi-life revolution but sang a unique kind of hi-life that has stood the test of time. His Baya album released about sixteen years ago is still selling.
Then there was Papa Appiah! No you haven't heard of him. I heard his music only yesterday and felt moved enough to write this piece. His newly released Memories of Africa album is very special indeed. Like Ben Brako's, most of the songs are probably hi-life, but very much unlike anything you may have heard before. The eight songs on the album also differ so much from one to the other, that were it not for Papas ever present passionate, emotional, gravely voice, you could well be listening to eight different composers. Adjoa Serwaa on track 1 is hi-life but could well be jazz. The title track, Memories of Africa, is penned in the pan-african style of which Osibisa is the most famous exponent. My favourite track is however the up-tempo catchy All night Long on track two which is sure to send music lovers, well, dancing all night long.
In making this album, Papa put together a collection of crack musicians including Alfred Kari Bannerman of Bombaya and Osibisa fame on guitar, Love Papa Kwabina on drums and Emmanuel Afram on bass. Tony Robinson and Garry Birtles are the regular horns men of the Beautiful South and their melodious rhythms impart a certain solemnity to the sound. Paulina Oduro and Gloria Wiafe Akenteng, ably directed by sound genius Adam Ellis of Deadline Studios in Leicester, UK, sound like angels and complement Papa's voice admirably. Papa Appiah plays the rhythm guitar on the rather emotional track 8 – I'll be Gone.
Papa Appiah has a few things in common with Ben Brako. They both insist on their own style irrespective of whatever is in vogue. They both used the services of the best instrumentalist of the time. They are both fantes. They both released their debuts at an older age and last but not least, they both went to St Augustine's College in Cape Coast. I think it's something to do with the sea breeze at Augusco. They are all a bit cr…… (I won't tell you which school I went to).
The writing at the back of this CD aptly sums up the feeling in this wonderful piece of work….
For all of you who have left loved ones at home and dream of happier days long gone…
For all those who yearn for bantama kelewele, kwasiada anopa mmotuo and circle kenkey and fish…..
For our people back home who toil to keep our dreams alive….
Memories of Africa…. Enjoy it.