I Beat My 3 Wives -Bukom Banku Brags on TV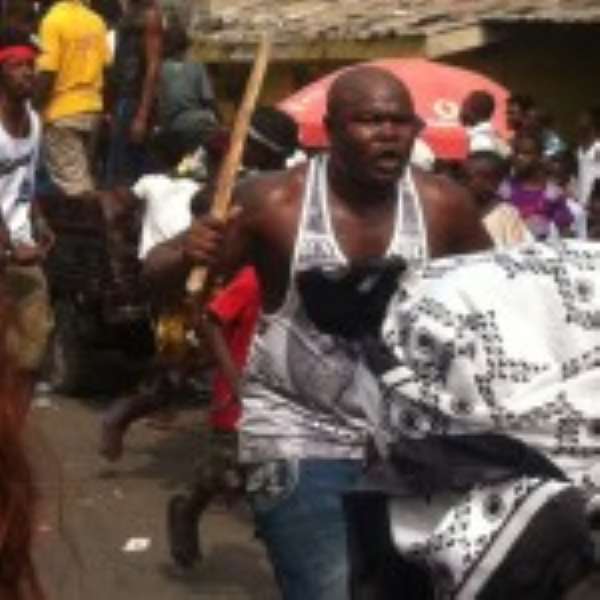 Bukom Banku
Professional Ghanaian boxer Briamah 'Bukom Banku' Kamoko has bragged on national television that he has a habit of brutally beating up the three women he is married to and that domestic violence is a normal and frequent happening in his matrimonial home.
The licensed boxer has often found himself in police grips over assault-related charges and violent behaviour but the police authorities have never sent any of the cases to court but have consistently released him to walk away a free man only to re-arrest him when he assaults yet another victim.
"Why can't I beat up my own wife when she makes a mistake? I beat my wives; I beat them. They are my own wives. What is wrong with that? She misbehaved and I beat her up and so what? I beat all three of them…. I am the man and my wife must respect me because she is a woman. If she does not respect me, I will punch her. I beat up anyone who misbehaves towards me. I am telling you.
"The one I came here with is my third wife and I always beat her up. I have beaten her countless times. You can ask her. She has given me two children—two girls, Mamuna and Kadijha, aged 4 and 2," the licensed boxer told Delores Frimpong Manso, host of the DELAY television magazine show aired on Viasat-1.
Bukom Banku continued: "They [his wives] respect me but when they show any disrespect, I beat them up. If you make a mistake, I will beat you up by heart. I have the right to beat anyone who misbehaves. Even if you, Delay, you misbehave towards me, I will punch you.
"If you insult me, it is misbehaviour. You know that I am a boxer and so if you insult me, I will punch you and beat you up. You know I am a boxer and I am a big man and if you tempt me, I have to beat you up and even if you call in the police, I don't mind.
"Beating my wives is nothing. After all I even beat Ayittey Powers so if my wife misbehaves and I beat her up, it is nothing strange…When I beat you, you won't die. I beat you in a sensible way. Delay, if you misbehave, I will beat you because listen, me, I don't like women. I like my area girls. I like Bukom girls. All my three wives are from Bukom. I don't like girls from Osu, Cantonments or Legon. I don't like such girls," the boxer added.
Several residents in and around James Town, a densely populated coastal town in Accra, have fallen victim to Bukom Banku's violent behaviour but no matter the severity of their injuries, the boxer has always been let off the hook by the police.
.
Explaining his origin, the boxer said he was born and bred in Bukom and that his mother, Adubia Asare, is an Akwapim but his father is from Sisila in the Upper West Region of Ghana.
Many persons in Bukom who have lived with the boxer however dispute his claim and insist the father is not a Ghanaian but a Malian who lived in the community and became popular for selling tea, cocoa beverage, bread and bacon at night.