Ghana Institue Of Journalism To Host Ghanaian Bloggers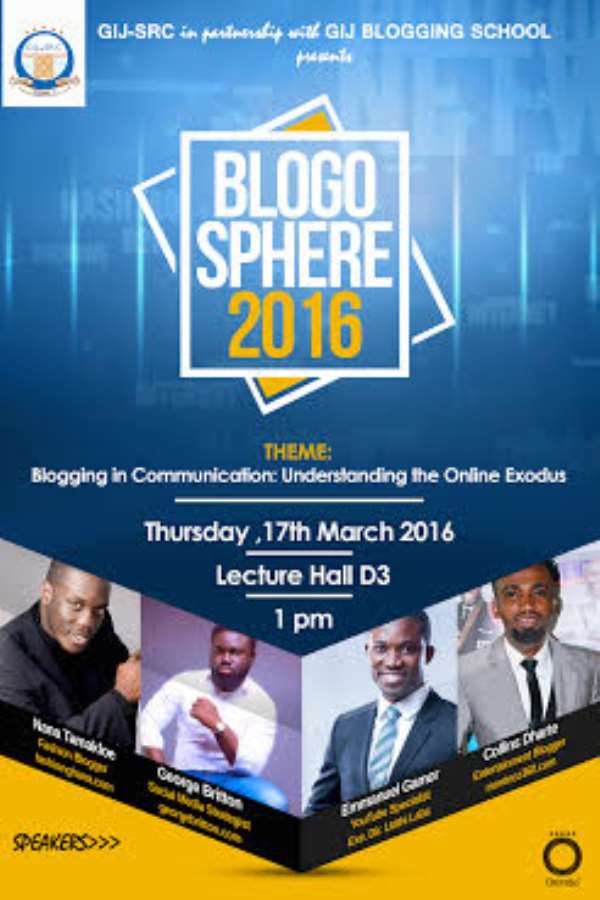 The Students' Representative Council ( S.R.C ) of the Ghana Institute of Journalism in collaboration with GIJ Blogging School are coming out with what they term as 'Blogosphere 2016'.
The programme which is under the theme, 'Blogging in Communication, Understanding the Online Exodus is set to take place on the 17th of March, 2016 on the school's premises.
According to the organisers, the programme is organized as part of the 2016 SRC Week Celebrations .The event structured to aid novice and prospective bloggers understand the dynamics of digital media.
Powerful and great men in the blogging industry are said to be present to share their experiences and the way forward with the students on blogging .
Among them include, Nana Tamakloe, Fashion Blogger and Founding Editor of Fashion Ghana ( www.fashionghana.com ), George Britton, Social Media Strategist , Founder ( georgebritton.com ), Monte Pypi Darteh Collins (Monteoz), Al Jazeera Media Correspondent and Entertainment Blogger ( monteoz360.com ), Emmanuel Gamor, YouTube Specialist (Vlogger), Founding Executive Director of Urithi Labs just to mention a few .