Kwaku Manu Names New Baby After Prophet Emmanuel Badu Kobi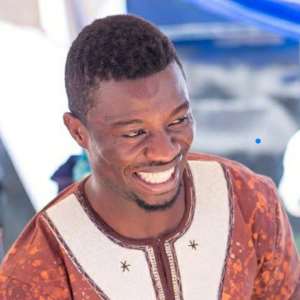 Celebrated Kumawood actor, Kwaku Manu, whose wife gave birth to bouncing baby boy last week, has exclusively disclosed to Ghanapoliticsonline. Com that he will be naming the child after his trusted prophet ---Leader and Founder of Glorious Waves Church International Prophet Emmanuel Badu Kobi.
According to Kwaku Manu, his decision actually confirms the saying that "one attracts whatever he or she respects" --- because, he has always been saying that he will name his child after the prophet.
"I've been hearing of him but I've not had any close encounter with him until recently. I'm proud to disclose that I will name my son after him. I've also told my wife about it. "
The 'Im Love You' comic actor also added that he will be meeting the said prophet soon to make his intentions officially known to him.
Asked if his wife did not raise any objection when he told her about his decision, he said the wife gladly welcomed his decision as the head of the family.
"She agreed based on the reason I gave her. I have 4 kids now -- 2 boys, 2 girls. I'm done he said".