When love calls dreadlocks fall; the love story of Okyeame Kwame, Annica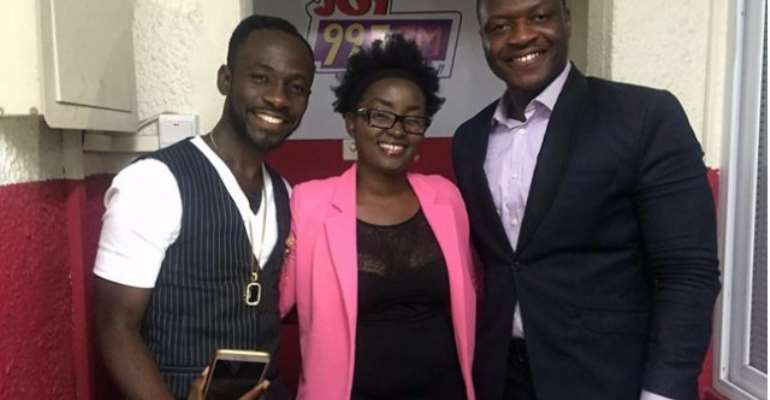 He was as popular then as he is now; roamed the streets of Kumasi, reveled in the popularity of their hit song "masa na aba" swept many women off their feet with his raps and breathtaking performances but when love calls something must give.
He gave up his dreadlocks, the one thing he cherished so much at the time. The thing that gave him some identity. He removed it on his own volition without the trappings of Samson's Delilah.
The man who swept women off their feet with his lyrical dexterity was carried away in the ocean of love by the striking beauty of a woman- Annica.
In the month of love and on Lexis Bills' Personality Profile on Joy FM, the Linguist Okyeame Kwame and his wife Annica sat in the glorious hall of fame to sing the profound story of love to millions of listeners home and abroad.
He recounted how he met the queen of his heart in front of a Law firm close to Luv FM in Kumasi and how that queen in black with a "waist of a wasp and a hip of an elephant" mesmerized him.
He was attracted by her demure figure and "Eastern African look." The queen was desperate for job that fine morning but went home with a prize, a man and later a happy marriage.
It was just the kind of marriage Okyeame Kwame dreamt of, fantasized about in the early years of boyhood but is now living the dream in his manhood.
The month gone by marked the celebration of seven short years of marital bliss between the two; a marriage without a single fight but with many disagreements over differences in ideologies.
A marriage in which the man, Okyeame Kwame is the head of the house, but the woman, Annica, is the manager at home and manager at work.
Annica is the brands manager of the institution-Okyeame Kwame- and has been running the institution with an eye of a professional and a heart of a woman, a wife.
Play the video for the love story.