Movie premiere of "Last Night and Nana Means King"in the Netherlands.
Get your tickets now!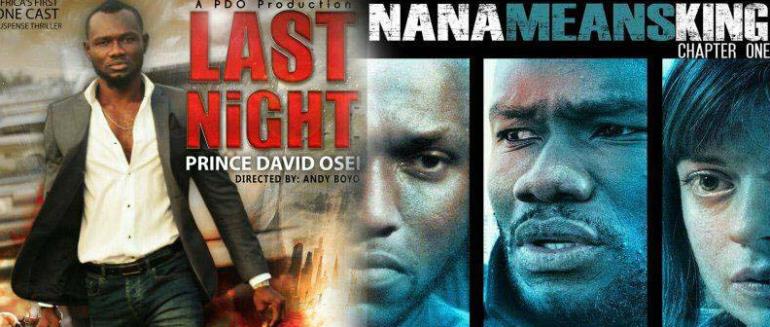 On Friday the 12th of February 2016 there will be a Dutch premiere of two African movies "Last Night and "Nana Means King" screened at the cinema Pathé Arena in Amsterdam. It will be a double movie entertainement night, African Movie Night.
The movie Last Night is produced by Prince David Osei and directed by Andy Boyo. The uniqueness of this psychological thriller lies in the fact that there is only person who plays in the movie, the main character Bright Mensah, played by Prince David Osei.
Bright is a radio-DJ of the show (Truth and Consequence). To the outside world he seems like an ordinary married young man with a flourishing career, but what they do not know is that he is a heavy drug addict. On a certain evening, after his radio session, he awakens from a "bad trip". He receives mysterious calls from known and unknown people. He then gets caught in a spiral web of life and death.
The movie was directed by Andy Boyo from Nigeria. He is a well-known figure in the African film industry; he is a veteran and grand patron of Nigeria's Association of Movie producers. In many ways the movie Last Night shows how versatile the African film industry is, and that African countries (Ghana, Nigeria and South Africa) have joined forces to produce quality movies. It is definitely an industry to look out for.
In Nana Means King we follow the story of Nana Kwame, a Ghanaian illegal immigrant who comes to work in the UK. He finds himself to survive and re-envision a life beyond own shattered dreams.
When he arrives in the UK, Nana Kwame quickly finds a job to start working on his dream. However, an unfortunate wicked event occurs, that leads Nana Kwame into getting stripped of nearly all possessions even to his dreams of glory. His hour of darkness arrives, but it takes an expectant turn when he meets Shauna.
The movie is directed by Nana Obiri-Yeboah, it is his first indie feature film.
Both films feature African actor Prince David Osei. He has won several awards for his outstanding performances, namely, Ghana Movie Award for Favorite Actor and Best Actor award by City People Entertainment Awards (2015).
On the night of the premiere, Prince David Osei will grace the red carpet next to film director Andy Boyo.
Last Night will be the first film to be screened and will start at 21:00 PM prompt.
Tickets can be purchased at Pathé Arena or online www.pathe.nl
#AfricanmovienightAmsterdam