I won't work with fraudulent people - Ambolley turns down Obour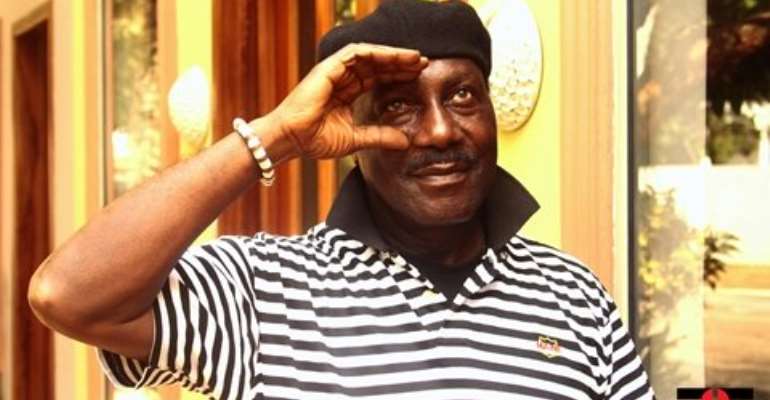 Highlife legend Gyedu Blay Ambolley has denied reports that he has agreed to work with Bice Osei Kuffour (Obour), who was recently re-elected president of the Musicians Union of Ghana (MUSIGA).
Gyedu Blay was one of the delegates who contested to lead MUSIGA at its elections on October 31, 2015 elections in Koforidua and lost to Obuor.
The controversial musician is alleging that the election was not free and fair and therefore he cannot associate himself with Obour's administration.
He was reacting to reports that Obuor has invited him (Ambolley) and Appeitus to work with him as executive members in his administration.
"I have heard that through the air, but the bottom line is I don't like working with somebody who acquires a position by crooked means." That does not sit right with me because everything [should be done] properly. It's like sowing a good seed it will bear a good fruit" he said.
He was speaking for the first time after the elections on Hitz News, an enternment news programme on Hitz FM.
When asked what he meant with his statement, he said "It is MUSIGA that selected the delegate to vote, it wasn't a transparent thing for Appietus, myself and other contestants. So they choosing their own delegates signify that, they chose those they think will vote for them," he claimed.
After the elections Obour secured 88 out of the 133 votes cast to retain him as president.
Renowned sound engineer Appietus also obtained 18 votes, while Gyedu Blay Ambolley managed to secure 22 votes out of the total valid votes cast at the Koforidua congress.
The after math of the elections saw Gyedu Blay threatening to challenge the results since he thinks there was 'Mafiarism' at MUSIGA.
Giving reasons for heading to court he said "If you want to talk about the constitution, it says that 10 delegated people must be selected from each region, Accra chose 30, Kumasi chose 20 and that flaunts the constitution."
He adds that some workers at MUSIGA who are not musicians were allowed to vote.
"I am in discussions with my lawyers," he revealed.