West Hills Mall Unveils Package For Shoppers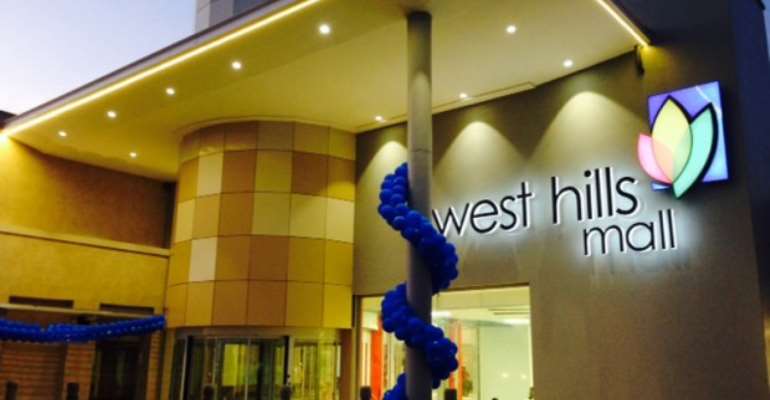 West Hills Mall, Accra's trendiest destination for modern shopping and entertainment, has just released a package of activities marking its first anniversary and the Christmas season.
West Hills' management sources say the centre will be 'hyper busy' from this week, till October 30, the day the mall officially opened for business, through November and throughout the entire yuletide season and would feature the restocking of all shopping outlets and a variety of entertainment programmes.
Michael Oduro Konadu, marketing manager, told journalists that beginning this week, West Hills Mall is 'swinging into a pleasurable celebratory mode which will offer all shoppers and revellers top-of-the-scale services, a series of promotional programmes and quality entertainment.'
'Accra West and the rest of the capital should better get ready. As I speak, the mall has just launched an exciting 'Shop and win Promo' specially designed to reward our customers and patrons. Shoppers get to win fantastic prizes just by shopping to the value of GH¢50 from any shop in the mall. If you recall how we gave away a brand new KIA Rio to a broadcast journalist after spending just GH¢120, you can understand how exciting this promotion is,' Mr Konadu said.
Among the long list of thrills on the anniversary itinerary at the mall will be a three-day fashion freeze show, featuring cat-walking models who would sport designer outfits exclusively selected from the mall's own fashion shops. The show will run concurrently with live and interactive outside broadcast sessions by Joy FM, Starr FM and Kasapa FM.
On October 30, the mall has lined-up a community school musical sing-along which will feature a colourful balloon show culminating later in the evening in what may be described as the climax of the celebration – a massive open air musical concert to be headlined by a celebrated Ghanaian artiste whose identity the mall's management is determined to keep as a surprise for now.