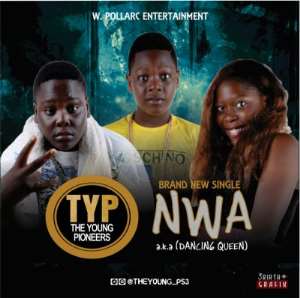 It definitely helps when entertainment runs in the family. Being cousins to Nollywood's comic actor Charles Awurum , ' The Young Pioneers or TYP as they are called have caught the limelight at a very young age (13, 15 & 15 years old respectively).
TYP seems to be gaining entrance into Nigeria's music scene and the future sure looks very bright for this trio as they unveil their first ever music video for the hit track 'Nwa' which is receiving good rotation and performance nationwide.
With a rich storyline culled from a very popular folktale of the Igbo culture, The Lagos-based group were versatile enough to infuse some element of Kwaito imported from Southern Africa to give the viewer a complete experience.
TYP sought the services of Nigeria's enigmatic video director MattMax to release a statement-making crisp visuals.
Watch and enjoy
Video on Youtube:
VIDEO DOWNLOAD: http://bit.ly/TYPNwaVideo
AUDIO ON MYNOTJUSTOK: https://my.notjustok.com/track/27613/typ-nwa