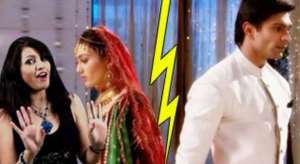 Tonight, Monday 21st September, JOY PRIME is set to Premiere another thrilling and exciting new Asian Telenovela titled, 'I DO' (Qubool Hai) which replaces THE PROMISE in its 6pm slot.
Since its creation in March this year, Joy Prime has been at the forefront of delivering the most outstanding Telenovelas and fast becoming a household name associated with this program genre.
The Channel is associated with the most popular Telenovelas which have become a big hit with Ghanaians including Passion Morena, La Patrona, Avenida Brasil and The Promise.
I DO is an Indian family saga that cuts across generations. The story circles around two families related by blood and yet distanced by circumstances.
Two brothers Ayaan and Asad are separated by their families but are united in their hearts. It also tells a story of a girl called Zoya who starts by hating the culture of hypocrisy in joint families and eventually ends up bringing together the two warring families. The journey of the Khan family is seen through the two warring families. The show begins with Zoya running away from a forced marriage but through a twist of fate gets married to Ayaan instead.
I DO addresses the real issues that we face in life; stereotyping, hypocrisy, tradition verses modernity, gender equality, forced marriages in the 21st Century, amongst others.
One can identify himself/herself with any of the characters as they put themselves in the minds of their audience, get to feel how they feel and express their opinions and views about things the society deem as okay.
Trust that I DO is also about Love, Happiness and lots of comedy to keep you rolling on the floor throughout.
Originally titled, Qubool Hai, the show was seen shining in the 2013 Indian Academy Awards by winning multiple awards in the various categories including; Best Actor (Karan Singh Grover), Actress of the year, Surbhi Jyoti (Zoya) who also won the Face of the Year Award in the Female Category.
I DO is set to keep viewers on the edge of their seat; giving them a different perspective about life and it Premieres Tonight, Monday 21st September 2015 @ 6pm.
Joy Prime is available for free on MultiTV, Go TV and on all digital TVs.