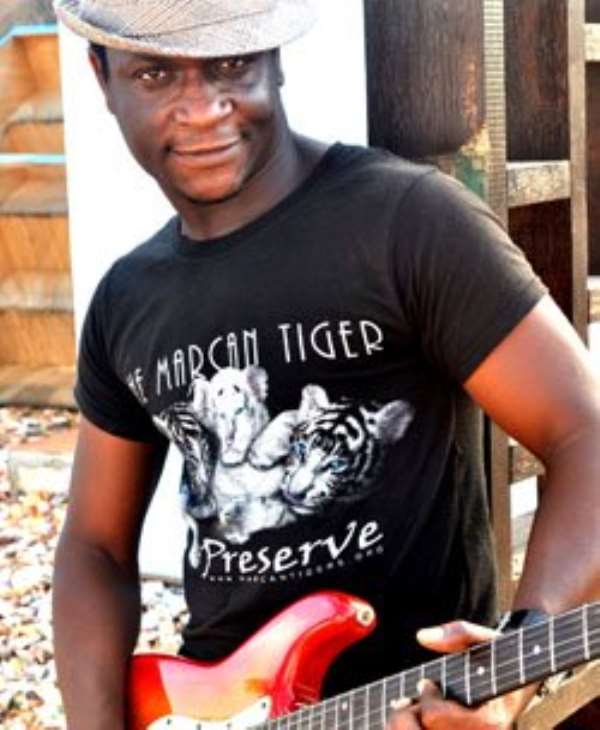 Owura K
One of Ghana's upcoming jazz musicians, Erastus Kwabena Asomani, known in the music scene as Owura K yesterday declared that the music industry in Ghana is finding it difficult to move forward due to lack of good structures to protect the interest of musicians.
According to Owura K, 'The creative arts industry in Ghana is strong but we still need some level of structure. Let's put in place good structures to protect the interest of musicians.  There is so much to do and that is where we should focus right now. I want us all to solve problems collectively'.
Speaking to BEATWAVES yesterday in Accra, Owura K, who will launch his latest musical album, 'Abokobi Jazz Collection'  later this year in Accra, stated that the stakeholders in the creative industry should find creative measures to bring all the players on board to work toward the progress of the industry.
He noted that although the President of the Musicians Union of Ghana (MUSIGA), Bice Osei Kuffour, is doing well for the music industry: 'We still need to put in place some of personalities who have the skills to run the industry so that the musicians could benefit from their works'.
Owura K, who started music at a tender age and became a jazz musician 17 years ago, called on musicians in the country to educate themselves in order to become professionals and also meet the challenges ahead.
He advised musicians to upgrade their skills through training programmes that would take them through the rudiments of writing good lyrics, playing of instruments and handling the business side of music.
He disclosed that in Ghana today jazz music and musicians have been sidelined by event organisers making it difficult for them to get the necessary exposure, adding, 'Don't sideline Jazz music in Ghana'.
He stressed that Jazz music, which has immense potential to contribute to the growth of the country's economy, has not been given the needed attention by key players, adding that the music industry in Ghana would have a great future if only the stakeholders in the industry would come together and work as a team.
He appealed to event organizers to come to the aid of the jazz musicians by organizing jazz musical concerts since Ghana has a lot of jazz music fans.
Because of Owura's unique style and approach to music, he has performed with the same group of musicians, backing the legendary Hugh Masekela.  He later joined the Magic System Band from La Cote d'Ivoire.
During Stevie Wonder's visit to Ghana, Owura was supposed to be part of his backing band but unfortunately, Stevie decided to use his own band instead.  Stevie however met with Owura and encouraged him to keep playing and learning while respecting pioneers of good music, as that would take him far.
From then on, he started playing for leading Ghanaian musicians and artists such as Amandzeba, Gyedu Blay Ambolley, Bessa Simons and Jimmy Dludlu, who later became his teacher.
'The guy plays for everyone, he is good. I like him! Owura is a good and likable person,' said Hugh Masekela.
Owura was born on 27 June, 1978 in Akyim-Tafo in the Eastern Region of Ghana.  He is the second born and only son out of three children.  His father is a cocoa research officer and his mother a trader of foodstuffs.
 By George Clifford Owusu