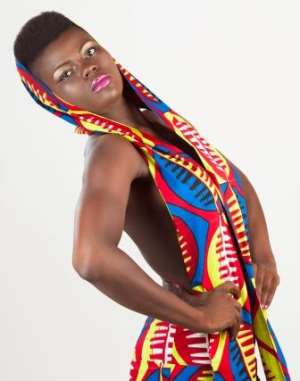 NOELLA WIYAALA
Written by: Afromusion
May 10, 2013
1.Tell us a little bit about your background Noella- where did you grow up and go to
school?
I grew up in Funsi, which is a small village in the north of Ghana. Nearby is the town of Tumu where I went to school. I enjoyed football, drawing, singing and dancing. People used to say I was a tomboy.
2. When did you get into music- what sparked your interest in music?
My mother was a chorister and she taught us to sing. We were four sisters and we used to sit with her and sing with her when she was practicing for Sunday choir.
3. What was the first song you ever wrote?
It was called Tuma which means 'work' (if you don't work, you won't chop; no food for the lazy man) lol.
4.What is the importance of music in society, as a whole?
Music creates joy and peace which we can all share. Music is in nature, it's all around us!
5.How do you define your music?
I do many kinds of music, but it's all Afro, it could be Afro-Rock, Afro-Pop, Afro-soul, Afro-Tech. I can never lose my Africaness.
6. Who were your favorite musicians when you were growing up?
Madonna, Michael Jackson and Angelique Kidjo
7.Who are your favorite musicians now?
Tina Turner, Angelique Kidjo and Grace Jones
8. It seems like many of the country's singers are from central Accra and Tema.
You are from the Upper West region of Ghana. How does that influence your
music?
Actually, I've been influenced by the international stars I have seen on TV and the local singers and beats from the Upper West.
9. You are now based in Accra. Do you think in order to succeed musically in Ghana, it is vital to come closer to the capital?
Yes, it's the truth! If you are based in Upper West it is like being dead. People would not even know you exist! I hope that will change one day.
10. Which Ghanaian musician would you like to work with and why?
Osibisa, because their music reflected the best of Ghana and singing with them would be so inspirational.
11.How does technology impact your music?
A lot, because most music is made with computers these days. People outside of the country and continent can now hear your songs because of technology.
12. If you were not making music, what do you think you would be doing in your
life?
Something creative like fashion design, I design most of my own stage dresses. Or, a professional artist.
13. 'Make Me Dance' is your latest videotell us a little bit about that song and the video concept.
Well, I hope the song is a mature way of telling your partner that making love with them is great! The video is supposed to represent the 'wow' factor of that emotion.
14. Did you write ' Make Me Dance' If so, what inspired you to write it?

Yes! I wrote 'Make Me Dance'! I was doing the washing. I was excited that afternoon and from no where the song popped up in a melody form and I developed it until I got what we have on the record now.
15. How do you write your songs- what process do you go through?
A melody comes into my head and some small words, I sing it to myself and it develops. Then I take it to the studio so that a beat can be made for it.
.
16. What role does Ghanaian music have in the world?
For now, Azonto has made Ghana popular. But we have more than that and we should export it.
17.Where do you see yourself in 3 years?
I'm targeting all the big stages here in Ghana and outside. The big festivals and all.
18. What advice would you give to young aspiring musicians?*

Believe in yourself, practice harder and harder.
19.What role do women play in Ghanaian music?

A difficult role, it's not easy to be a female musician, but we are managing more and more.
20.There are a few Ghanaian women musicians. What makes your style of music
different?
My genre of music. My look! My voice! My performance...I rock!
21. As you navigate the music scene, what has been the most shocking aspect of
the music entertainment scene?
The fear of investing in a real talent
22. As you navigate the music scene, what has been the most intriguing/positive
aspect of the music entertainment scene?
When a real talent emerges after years of struggling alone, surprise, surprise, the investors and would-be managers suddenly appear... intriguing!! The process makes you stronger and more independent!

Fun Facts about Noella:
Nickname: nickname at school was "Man-Woman"!
Favorite TV show: 'By the Fireside', best TV show ever!
Favorite song: Take a Bow, by Madonna
Favorite place to hang out: Sitting under a mango tree eating the mangoes. lol
Countries you have visited: Burkina Faso and South Africa
Favorite food: TZ(Tuo Zaafi) + grasscutter meat with green soup
When was the last time you:
Cried: last night
Laughed: right now!
Cooked: today
Were scared: when I dream
What are you afraid of: darkness
Traveled outside of Accra: Sunday
Editor's Note:
To learn more about Noella, check out the following:
Website: http://www.noellawiyaala.com/
Twitter name: @ WIYAALA