Kenyan filmmaker Hawa Essuman won the Director's Eye, a 25,000 euro fund for film development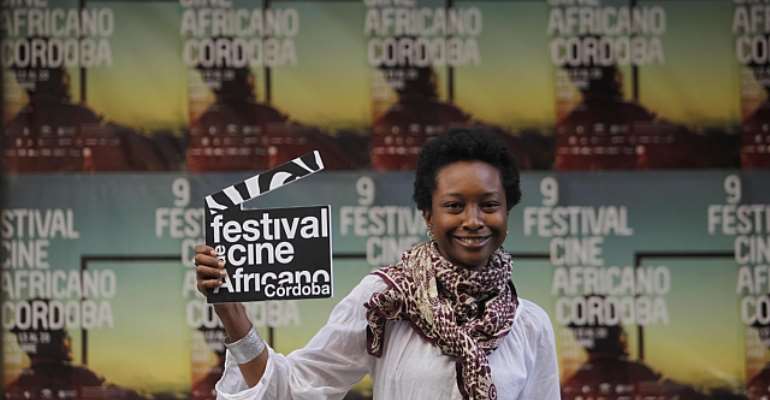 In the frame of the 9th African Film Festival of Cordoba, Essuman's film script has been granted The Director's Eye, a film fund provided by foundation Lettera 27. On the other hand, on the 19th of October the festival winners will be revealed.
Cordoba, October 18th, 2012. The lettera27 foundation in collaboration with the African Film Festival of Cordoba-FCAT, has granted on Thursday the 18th of October, a 25,000 euro fund to a project titled Djin (The wind of destiny) from filmmaker Hawa Essuman. The Kenyan director, originally from Ghana, has already received an award this year in the International Film Festival of Durban (DIFF) for her script Logs of War. This same work has also been selected to screen in the International Documentary Festival of Amsterdam (IDFA).
The winning project has been agreed upon as the best of the seven feature length narrative scripts regarding Africa participating in the 4th Forum for African Coproduction, Africa Produces. The Fund, known as The Director's Eye, is confirmed as being allocated to the realization of Djin, a film narrating the history of a Kenyan coastal village reigned over by mythology and tradition as it experiences the arrival of modernity.
The jury which has commissioned this selection is formed by the Nigerian filmmaker Newton I. Aduaka and South African producer Steven Markowitz, who have noted "the high quality of the participating projects, with which we corroborate a bright future for African cinema". Furthermore, the members of the jury have also given special mention, one without economic endowment, to the third feature length script from Kenyan filmmaker Mira Tanna-Händel, titled Salme's Freedom.
The director of the festival, Mane Cisneros, has highlighted that the Directors Eye fund "is not only an economic endowment, but also a means by which the director will have access to support and advice at all times from both the lettera27 foundation as well as the festival. Together, these organizations will accompany Hawa Essuman from start to finish.
In addition to the economic endowment of 25,000 euros, the project will have support through the duration of the production process by means of advice, search and dissemination of sponsors, the initiation of crowd funding campaigns and social networking. Following its production; the film Djin, a result of this international coproduction, will be projected at the African Film Festival of Cordoba-FCAT as an international launch platform.
In this way, the FCAT Cordoba which is celebrated from the 13th -20th of October is configured not only as a space for the presentation and projection of films, but also as a point of interaction and dialogue between filmmakers, Spanish audiences, international producers, distributors, and fund managers with the objective or promoting coproduction.
The Forum of African Coproduction, Africa produces, which forms a part of the FCAT program's Espacio Profesional celebrates this year its fourth edition. The objective of this space is to facilitate connections between African filmmakers and European producers interested in working together.
About lettera27 and FCAT Espacio Profesional
lettera27 is a non-profit foundation, supported by Moleskine. Its mission is to support the right to literacy, education, and information while promoting access to knowledge throughout the world but especially in developing countries. FCAT Espacio Profesional is dedicated to promoting cooperation between film professionals from Africa, Spain and the rest of the world. FCAT Espacio Profesional 2012 has two main components: The 4th Africa Produces Co-production Forum, and a series of conferences and round tables which will tackle key matters such as the financing, production, distribution and exhibition of African film works.
Winner project: Djin, by Hawa Essuman (Ghana, Kenya)
Every 30 years, in a village on the coast of Kenya where mythology and tradition prevail despite modernity's attempts to penetrate, a wind blows, carrying with it a spirit: the Djin. This spirit selects people, urging them to fulfil their aspirations, at the same time eliminating doubts and ambivalences.
Hawa Essuman, born in 1980, is a Kenyan artist originally from Ghana. As an actress, producer, writer and director with a background in theatre, Essuman has experience both in documentary films and television productions as a Director.
Special mention: Salme's freedom, by Mira Tanna-Händel (Kenya)
Zanzibar in the nineteenth century. Salme is the impulsive youngest daughter of the Sultan who tires of living in the palace. After meeting a German trader, Salme and her new partner decide to run away.
Mira Tanna-Händel was born in Kenya to Indian parents and currently lives in Berlin. She has written and directed Feature films, documentaries and short films for BBC, Channel 4, ARD, etc. Salme's Freedom is her third feature film script.
Other works in competition for the Director's Eye film fund:
Sweet Justice, by Ekwa Msangi-Omari (Tanzania, U.S., Kenya)
Saran returns to Kenya to bury her husband, who was killed in post-election street violence. Soon she discovers that the death of her husband wasn't accidental, rather a murderous cover up by a network of child traffickers her husband had been investigating.
Ekwa Msangi-Omari is a Tanzanian-American filmmaker who was raised in Kenya and is now based in Brooklyn, New York. She has worked with professional initiatives like Tribecca All Access, The African Film Festival in New York and Completion Films. She has written and directed several short films, pilots and TV series.
Kiloshe, by Victoria Thomas (Sierra Leone)
Returning home to Nigeria for his sister's wedding from Edinburgh, night club bouncer and aspiring music producer Ade inadvertently overstates his career achievements to impress his childhood friend Femi, who in turn sees an opportunity to become a reality show mogul.
Victoria Thomas is an award winning comedy filmmaker from Sierra Leone. Now living in Edinburgh, Thomas is known for the founding of www.dmand.it; an audience mapping software for filmmakers. An alumni of the Berlinale talent Campus 2009, she was nominated in the BAFTA New Talent Awards in 2011 and is a visiting lecturer on the BA Creative Entrepreneurship at the Glasgow School of Art.
La batârde, by Uda Benyamina/ Malik Rumeau (Morocco, Syria, France)
La batârde tells the complicated life of Dounia, a teenager entering womanhood in the ghetto, of which she has become the queen; until she meets Lucas.
Uda Benyamina she was born in Morocco and lives in Paris. She attended several acting schools including ERAC (École Régionale d'Acteurs de Cannes), the Academy of Minsk in Belarus and the prestigious Actor's Studio in New York. She has made several short films shown on French television.
La Bande à Salomon, by Kivu Ruhorahoza (Rwanda)
Solomon, the son of an African dictator, lives like a rock star in Paris. At the end of one of his binges, he suffers an assault and his father forces him to get a bodyguard and a sorcerer to counter the bad luck.
Kivu Ruhorahoza is an emerging young Rwandan filmmaker. The international success of his first feature
film, Grey Matter (selected in FCAT Córdoba 2012) has ensured the backing for his second feature,
Jomo.