Hugh Masekela advices musicians …learn the traditions of Africa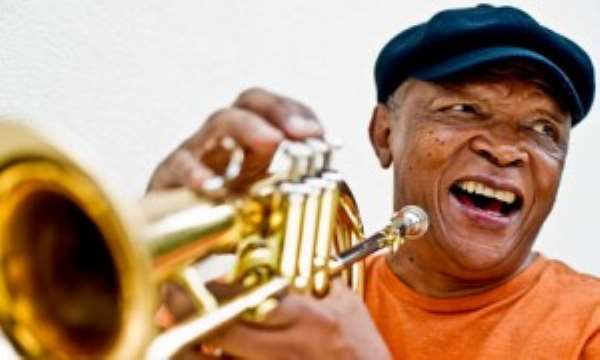 Legendary South African trumpeter, Hugh Masekela has advised young musicians to be circumspect in their bid to attain success, warning that if the process is not managed properly, it could lead to dire consequences.
The Grammy Award winning musician stated that 'very few people are successful,' and that most often these people get destroyed by it.
'Most people who get success get destroyed by it and some die from it. You have to be very strong and to a certain extent, you have to know when to be cold,' he advised.
Speaking in an interview with The Chronicle, Hugh Masekela recounted: 'I have lost a lot of friends in this business. One of my closest friends was Fela Kuti, who I miss so much. He was very successful and all that but he had his little kingdom,' which brought about his down fall and subsequent death.
Born Hugh Ramopolo Masekela on April 4, 1939, he was introduced to Ghana by Nigerian music legend and multi-instrumentalist, Fela Kuti, who died on August 2, 1997.
He added that, in the over 50 years of an illustrious music career, 'I have seen the profession destroy many friends. In the States I lost many friends especially to heroin. In South Africa, almost everybody I learned from died from booze.'
'Look at Michael Jackson,' Hugh recounted, 'he sang beautifully, he could dance like nobody ever danced. In fact, today when you watch any pop video it is Michael, but look at what he did to himself and how it [drugs] just consumed him?'
He advised young musicians to spend as much time as they can absorbing their heritage, stating, some of Africa's greatest musicians did not make it by accident, 'they are heritage artistes.'
'Fear your grand parents and try to hang out with them and find out who you really are. You have to infuse your heritage in what you do,' he said.
According to the South African, who is married to a Ghanaian, 'If you go into the arts for success, you are going to fail. You might have a hit but a hit lasts for only six weeks. What you have to do is perfect your skill in what you do.'
The 73-year-old first came to Ghana in 1973 while on exile from South Africa. He met his wife, Elinam Masekela, a Ghanaian, in 1977 and recorded six albums with the Hedzoleh Soundz during his stint in a country he calls home: 'I have a long and wonderful relationship with this country.'
He currently has over 50 albums to his credit and won a Grammy in 1968 for his smash hit Grazin' in the Grass which was recorded in just an hour and half. He was the first artiste to be signed to Universal Records in 1966.