Miss Ghana Finalists Tour Luxurious Prize House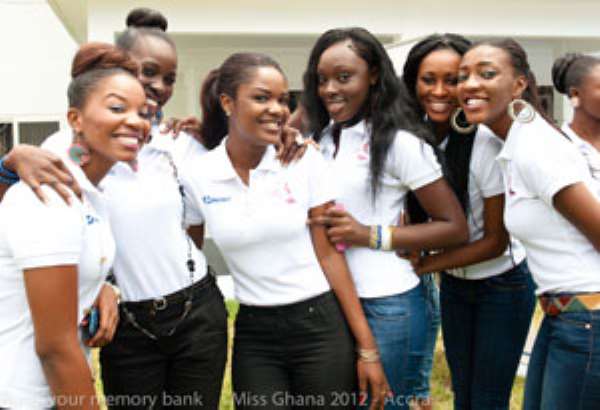 Some of the contestants
Finalists of this year's Miss Ghana beauty pageant have had a feel of one of their dream prizes long before the national finals.
All twenty finalists paid a visit to the luxurious three-bedroom house known as the 'Miss Ghana Official House,' located at the gated plush Manet Ville community off the Spintex road in Accra.
Kindly donated by a leading real estate company, Manet Properties, Miss Ghana 2012 and her two runner-ups would live in the tastefully furnished property during their one-year reign.
Visibly excited to have a feel of what could ultimately be an official residence for any three of them, the finalists were taken round the facility by officials of Manet Properties. The contestants also 'got their hands dirty' with some building materials that were being used for construction of the Miss Ghana Official House.
Dr. Theresa Beeko, CEO of Manet Properties and her team reiterated that 'Manet Properties identified with the Miss Ghana vision of beauty with a purpose and were glad to come on board.
She said, 'A woman should not just look beautiful but should use her God given gift to positively impact society,' Just like her company's vision and mission to build not just beautiful but highly functional homes.
Early on, all 20 finalists were hosted at the Manet Properties corporate head office, and also given a tour of the very famous 'Manet Twin Towers,' at Airport City. The Contestants asked questions that bordered on real estate and the vision of Manet Properties.