Diamond Adjudged Well Dressed Celebrity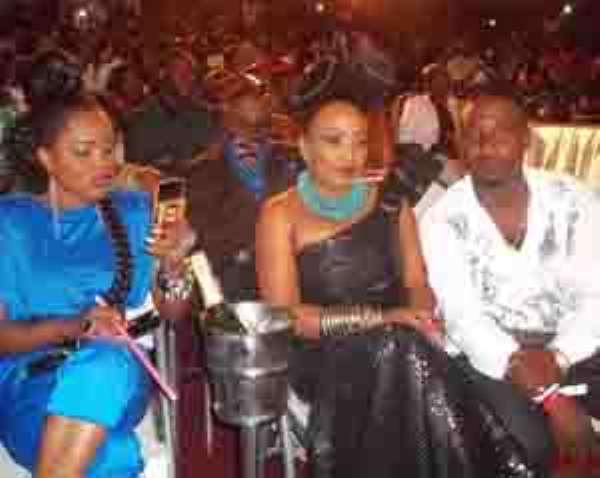 Diamond Appiah (middle) in a pose with Mzbel and a friend
Diva of all divas, Diamond Appiah, was on Saturday adjudged the best dressed celebrity when she stormed the red carpet with her beautiful gown and wild hairstyle.
She was adjudged the best-dressed celebrity of the night even though she did not win an award. She was however honoured to be a nominee for the Best Female Video Award category.
Diamond, who has brought her own glamour to showbiz in Ghana, was given a historic welcome when she arrived on the red carpet.
One of the organisers of the event noted that Diamond knew how to dress to attract attention. Unlike many celebrities, she makes sure that her best assets are highlighted, no matter what she is wearing.
He said Diamond had always possessed a high fashion sense, noting that her choice of outfits had continuously kept fans intrigued, hence it was not surprising when she was described by all as the best dressed celebrity for the night.
Diamond is known as someone who has kept her style conservative but elegant. From her footwear to hairdos, she has captivated everyone with her natural flair for style. Critics say that her wardrobe choices have been a breath of fresh air.
She told BEATWAVES in an interview that she always wanted to appear unique on events grounds and on stage, adding that she always wanted her presence to attract her fans as well as her colleagues.
The diva revealed that all was set for the launch of her second musical album, ' Diva Of All Divas' in April next year. Currently, she is making waves on the music scene with her two singles ' Taste My Apple' and ' Popping'.
By George Clifford Owusu