MISS WEST AFRICA INTERNATIONAL 2011; THE HEAT IS ON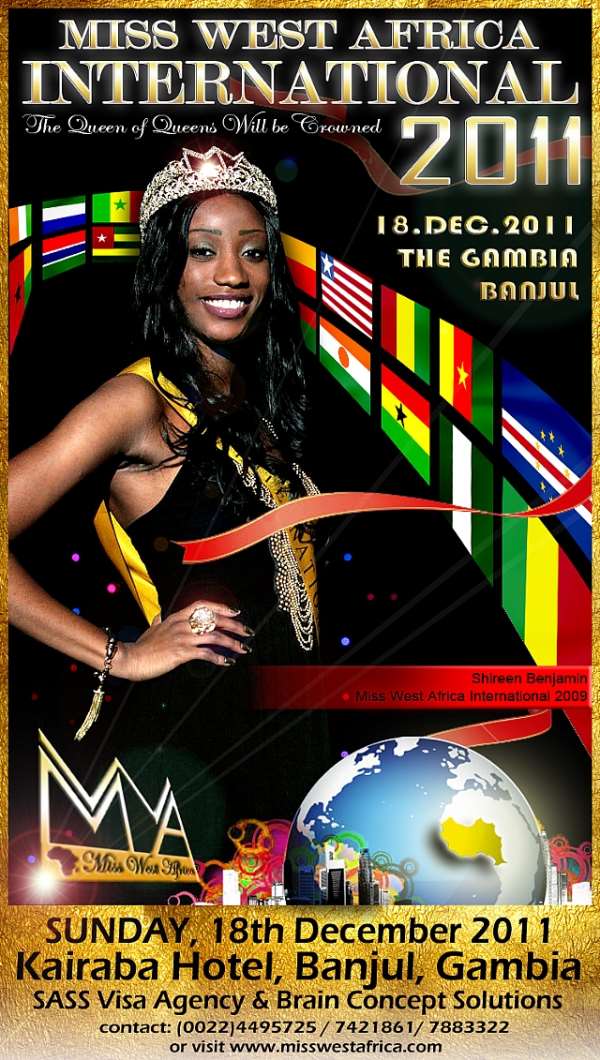 The first ever Miss West Africa International pageant in Africa is set to take place in Gambia, December 2011 being brought to you by SASS Visa Agency and Brain Concept Solutions. This year is set to be a historical year for pageantries in Africa following the victory of Leila Lopes from Angola in Miss Universe. After holding a series of Miss West Africa beauty competitions around the world, all crowned winners are flying down to Gambia to participate in Miss West Africa International. Africa is going to enjoy for the very first time, it's own international Queen of Queens pageant.
As opposed to a competition, the organisers have described the most anticipated beauty pageant in Africa as a celebration of beautiful African queens. The show is set to feature celebrity west African musicians as well as Gambia's best cultural performers which fans around the world can watch live online or via some TV networks. Also, people can expect to see a totally different type of pageant in Miss West Africa International. The girls participating in Miss West Africa International are already crowned queens, they are already winners, and they have all begun activities for the progress of their countries, they have already been through the standard style of pageantry. So on the night, we will be bringing them together to be congratulated in a celebration of West Africans culture and beauty.
Nevertheless, one girl will fly home as the successor to the acclaimed Shireen Benjamin who won Miss West Africa International in 2009. An international queen will be crowned in an event consisting of queens from 24 countries, 18 of which are West African countries and also queens from the UK, USA, Italy, France, Germany and Canada. Organisers say it was an outstanding idea to include queens from outside of Africa due to the large number of Africans living abroad wanting to be a part of this celebration of their culture. The events abroad have been a great part of enlightening the foreign world and drawing attention to West African culture and tourism.
All the queens will be arriving in Gambia on the 13th of December, where they will be greeted by great cultural artists and performers in Gambia, TV networks, Gambian diplomats and ambassadors. Throughout their stay at the Kairaba Hotel, the girls will be filmed by national television networks as well as having their experiences and Gambian tour documented for TV and the 2011 DVDs. Currently, all the queens are working towards the international title engaging in charitable activities shown on http://misswestafrica.blogspot.com, which also allows the public to vote for their favourite queen. The West African beauties are also fundraising for their participation and calling on all generous supporters to open their hearts to their efforts. The organisers are also opening sponsorship opportunities and media partnership for businesses that wish to assist any of the queens.
"Miss West Africa has opened the hearts and minds of many to learning more about other West African cultures. Our focus has always been on promoting West African tourism, business and culture. In our third year only we are in 24 countries with 16 events. And we appreciate all the support from various tourist organisations and the day to day Africans. We are proud to be making history."
For more information on Miss West Africa visit www.misswestafrica.com or contact below.
Miss West Africa ltd
(0022)4495725 / 7421861/ 7883322
[email protected]
www.misswestafrica.com
IMAGES OF MISS WEST AFRICA QUEENS AROUND THE WORLD





Saizeth Yacoubou (Miss West Africa Benin 2011)








Fatou Guebre (Miss West Africa Burkina Faso 2011)








Dilong Nsang (Miss West Africa Cameroon 2011)








Nina Erharbor (Miss West Africa Canada 2010) from Nigeria








Ivanilda Reis (Miss West Africa Cape Verde 2011)








Bousso Fenty (Miss West Africa France 2011) from Senegal








Yassin Jagne (Miss West Africa Gambia 2011)








Mariama Drammeh (Miss West Africa Germany 2011) from Gambia








Mary Adomako (Miss West Africa Ghana 2011)








Kadiatou Diarby (Miss West Africa Guinea 2011)








Heny Taveres (Miss West Africa Guinea Bissau 2011)








Sofia Wilson (Miss West Africa Italy 2011) from Ivory Coast








Marietou Coulibaly (Miss West Africa Ivory Coast 2011)








Eliza Pajibo (Miss West Africa Liberia 2011)








Evelyne Jaqcues (Miss West Africa Mali 2011)








Dianga Deh (Miss West Africa Mauritania 2011)








Minschou Moutari (Miss West Africa Niger 2011)








Ineh Angel (Miss West Africa Nigeria 2011)








Adja Ly (Miss West Africa Senegal 2011)








Stella Bangura (Miss West Africa Sierra Leone 2011)








Marlene Fortes (Miss West Africa Sao Tome et Principe 2011)








Julee Djoulde (Miss West Africa Togo 2011)








Astride Costa (Miss West Africa UK 2010) from Guinea Bissau








Chiamaka Abanofor (Miss West Africa USA 2011) from Nigeria