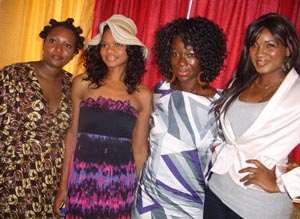 Kimberly (2 left ) with Ama K, Omotola and Ebbe Bassey (far left) in a pose while filming in Ghana
Leila Djansi's ' Ties That Bind ' is the film Ghanaians will definitely celebrate this year's Christmas with as its cinema release coincides with the yuletide season.
The film premieres December 30 at the National Theatre in Accra at 6:30pm and at the Golden Tulip Hotel in Kumasi.
It is expected to gather hordes of movie enthusiasts at the venues.
'Ties That Bind' has been described as another award-winning film from Turning Point, after ' Sinking Sands' , which made a huge impression at the African Movie Academy Awards (AMAA).
'Ties That Bind' tells the story of Adobea, Buki and Theresa (Omotola Jalade Ekeinde, Ama K and Kimberly Elise), three women from three different backgrounds bound together by a similar pain – the loss of a child.
In a destined meeting in a small village in Kroboland, the women journey together to redemption, love, life and forgiveness as they renovate a dilapidated clinic for the villagers.
The film stars a dynamic cast of Kimberly Elise, Randall Batinkoff, Ama K Abebrese, Omotola Jalade Ekeinde, David Dontoh, John Dumelo, Ebbe Basse and more.
It is not yet confirmed if December's premieres will bring the likes of Omotola Jalade and Kimberly Elise to town. The film is already in the news for celebrating Ghanaian culture with the extensive use of Ghanaian fabric, Da Viva.
Director Leila Djansi told BEATWAVES , 'We used costume to create a realistic environment and also a way to create and define the characters. For example, Kimberly Elise was playing Theresa, an American woman living in Ghana so her costumes were very Afrocentric and sometimes western. She wore a lot of headgear, beads, Da Viva prints and dashiki or what we call Angelina fabrics. That's how Afrocentric people dress.'
She added, 'Ama K wore a lot of formal dresses; very westernized because that's her character. A bourgeois lady who prides herself on being out there and Omotola was your everyday African woman who lived under her husband in a village so she had the Kaba and slits.
'We were not aiming at making a fashionable movie. We were aiming at telling the story of 'Ties That Bind'.
'What I do know is that we made every effort to make a film that stands the test of time and the emphasis was on story, not fashion. Ama had some very nice clothes but we tamed it so if you pick up that film 10 years from today, the styles don't put a time stamp on the film. So of course no GUCCI, D&G or glamorous clothes, make up or jewellery.'
By Francis Addo