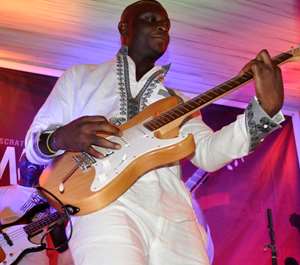 Owura live on stage
Scratch Studios toppled its performance record with the debut album release of Owura aka Mr. Cool.
The launch was held in the Scratch Music Lounge at The Guest Hotel in the plush area of East Legon in Accra.
The venue was packed with big weights in the music, media and the entertainment industry in Ghana.
Guests present at the music lounge included Gyedu Blay Ambolley, Ben Brako, Nana Boro Paulette Broohm, Steve Bedi, Freeman Ame, Greg Kanko, Kwakwu T, Carlos Sackye, Afia Swachniger and a host of others.
The evening came alive with an opening performance by the Twi speaking Chinese young lady, Apple, who dazzled the crowd with a classic originally performed by Amakye Dede. Then came the beautiful Paulette Broohm with her heart piercing voice, doing what she does best.
The MC for the night, Freeman Ame, astonished the crowd with his very funny jokes.
The evening continued with performances from Steve Bedi and Nana Boro.
The moment of truth came when the man of the night came in, through the aisle, to unveil his hard work and expertise in a dazzling all white attire which was designed by Nallem clothing.
Owura took his audience on a magical syncos trip as he strung his guitar chords and took them to a climax.
He started with the soulful jazz number ' I wannabe' , and swiftly continued with the Spanish flavoured ' Africana Tema Espanola' , and then went on to the album title ' Just Imagine'. He toned it down with a tribute to Konimo, a renowned guitarist in Ghana and also a mentor to Owura.
The night took a different turn when he did the jama flavored song ' Save Me' , featuring his colleague Steve Bedi on the saxophone. The track got the whole house on their feet. After the jama song he performed ' Bongo Dance' , which earned him a standing ovation and got the people chanting for more.
At this point, Gyedu Blay Ambolley took the stage and featured Owura on a song, after which Ben Brako did same and the crowd sang along.
Indeed, Scratch Studious offered music lovers an exhilarating night.
By Nana Abrafi Osie