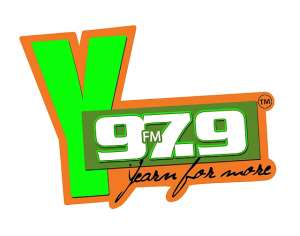 Takoradi, 17th July 2011: one..., two.., three! Pop! The logo that officially represents the Sekondi Takoradi affilliate of the only station for the young and young at heart was unveiled amidst great excitement as the popping sound of champagne officially ushered into the Oil city metropolis and its environs a new era of a new definition of lifestyle, music and entertainment.
It is now official! Residents of the only twin-city in Ghana can now confidently tune into a station that offers all-round entertainment and caters to their lifestyle and entertainment needs beginning last weekend.
Lightened up with spectacular decor right from the entrance of the newly opened Champs Sports bar in Takoradi to the forecourt, with an impressive strong presence of the Y FM, Vodafone and Smirnoff brands.
MCied by two of Ghana's finest young talents, Jay Foley and Natalia, the event brought together people from the corporate world, business executives, media, fans and lovers of the Y brand, among others, and was interlaced by great performances from newly crowned Vodafone Icons R&M, the beautiful songbird Raquel and adjudged GMA Rapper of the Year award winner Trigmatic.
In his welcome address, Station Manager of Y FM Nana Kwame Osei Sarpong who also doubles as the Presenter of Dryve of Your Lyfe, said 'Y 97.9FM is poised on delivering on its brand promise of going the extra mile to bring unmatched quality entertainment to our listeners across the country and worldwide. We are committed to raising the standards of entertainment here in the Oil city and they can count on us for that entertainment pleasure they have been waiting and yearning for'.
He added that 'Y97.9FM will be tapping into the programmes of the mother station in Accra so listeners will get to enjoy what has been hugely successful in Accra right here in the Oil city. He also noted that advertisers will now have real value for their money and called on them to come on board the Y train and have a feel of what it means to eat your cake and still have it'.
He expressed his gratitude to the people of Takoradi for their warm reception of the new station. As a station that has undoubtedly been at the forefront of creative expression and innovative thinking in the music and entertainment industry, the successes of Y107.9FM for the past two and a half years will help Y97.9FM start on a very good footing.
Touching on why the station decided to extend its wings to the Oil city, Y FM's Station Manager noted that 'we want to reach out to our deserving fans outside Accra and bring a whole new radio and entertainment experience to the residents of the twin city and its environs through quality content and programming. When I talk of a new radio and entertainment experience, I am essentially referring to the 'Y experience'; an experience that is soothing, refreshing and will keep you yearning for more. Y FM is hugely popular in Accra, and we feel that this popularity should re-assure the people of Takoradi that we are committed to quality and will surely deliver once fully integrated. This is our solemn pledge to the people of the twin-city.
Telecommunication giant Vodafone Ghana is the official sponsor of the event and was supported by Smirnoff.