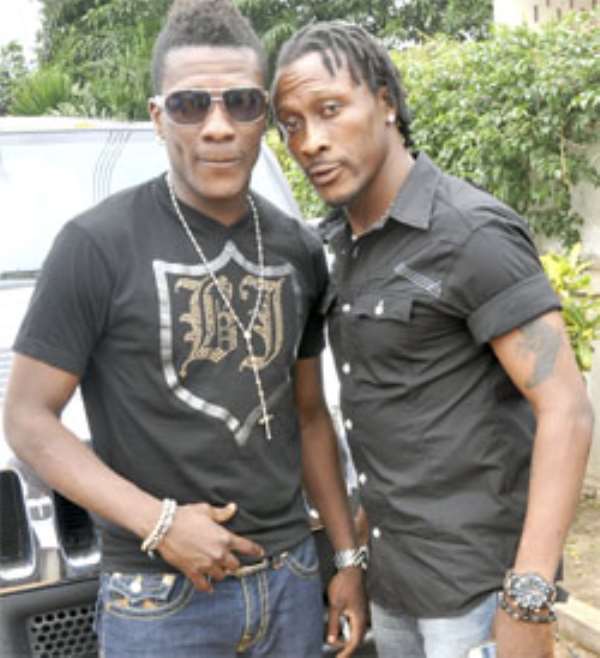 Asamoah and Baffour Gyan
One of Ghana's inspiring football stars, Asamoah Gyan, whose popularity rose outside the pitch last year after he released a collaboration hit single, 'African Girls ' with Ghana's hiplife star Castro, has disclosed that he would set up a charity foundation to cater for the needy, in December this year.
The charity foundation, which is the brain child of the footballer, will promote female education in Ghana as well as assist some needy institutions in the country.
Asamoah Gyan, who made this known when he paid a visit to the offices of DAILY GUIDE in Accra at the weekend, noted that the primary aim of the foundation was to assist and promote girl child education.
The footballer, known as Baby Jet, is also on the front cover of a new magazine, GUBA magazine, which has been endorsed by the Ghana High Commission in the UK.
The footballer visited DAILY GUIDE in the company of his brother, Baffour Gyan, Castro and a few of his friends. They arrived in Baby Jet's Hammer 2.
Asamoah Gyan, who is the only Ghanaian footballer to successfully venture into music, released his first hit single, ' African Girls' with Castro last year.
Asamoah Gyan last month released another hit single, ' Do the Dance ', with Castro, and the song is topping the music charts in Ghana.
The footballer, who claimed football was his first love and music his second, has performed alongside Castro at major international events including a concert at the famous O2 in London.
His latest performances at the first ever Ghana meets Naija concert and the 36th edition of the Sports Writers Association of Ghana Awards have also raised his profile in the music industry.
In a chat, Asamoah Gyan said as a footballer and entertainer, he did his best to entertain his fans when he was on the football pitch or on the music platform. 'I just do my best to entertain people with the dance which everyone seems to like. I feel happy to do it on the field and people love it'.
He attributed his success in his chosen career to God and his elder brother, who also contributed immensely towards his progress as a footballer and entertainer, saying, 'I owe him a lot.'
In a chat, the inspiring footballer declared that he was very proud to be on the face of well-designed GUBA magazine, adding, 'I am proud to be part of it'.
GUBA magazine is a quarterly magazine from the first Ghana United Kingdom Based Achievement (GUBA) Awards which has the endorsement of the Ghana High Commission in UK.
The magazine, which is a business and entertainment magazine and is being distributed in Ghana, UK and US, was out-doored at the Accra Mall last Saturday, where Asaomah Gyan signed autographs.
By George Clifford Owusu