Socrates Fight At Airport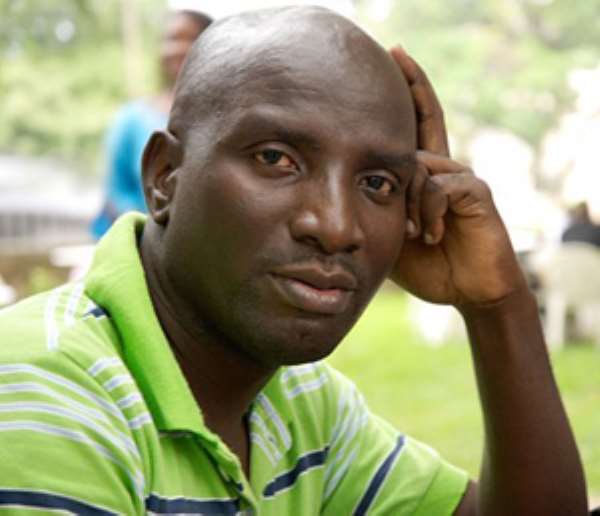 Socrates Sarfo
MOVIE PRODUCER Socrates Sarfo is likely to be dragged before court over charges of disturbing public peace and causing harm after he was caught throwing blows and quarrelling at the Kotota International Airport, says information reaching NEWS-ONE.
The controversial producer, who was recently reported to have shaved the pubic hair of an actress in his movie, 'What Sex Can Do', is gaining notoriety for fighting with the cast and crew of his movies.
NEWS-ONE has gathered that Socrates, on receiving reports that veteran actress Mercy Asiedu was travelling out of the country, actually chased her to the departure hall of the airport, seized her travelling passport and engaged her in a noisy quarrel that led to exchange of blows.
He reportedly threatened to get the Film Producers Association of Ghana to place a ban on Mercy Asiedu, if she left the country without completing a role she was playing in his new movie, ' Greedy Bastards' .
The actress reportedly abandoned the script because of the title of the movie though she had taken part payment for the role.
Mercy Asiedu was yet to settle her misunderstanding with Socrates when she decided to travel outside the country but the producer would have none of that and insisted that she would never travel unless she completes her role in the movie.
A source close to Mercy said the actress decided to check in her luggage early so she could do a few rounds in town before leaving for London. Just after checking in and leaving the departure hall, Socrates reportedly popped up at the airport, running after her while clapping his hand and accusing her of fraud.
According to Socrates, he had paid Mercy Asiedu to act in his new movie, but she abandoned the production midway with an excuse that she was no longer comfortable with the title because it sounded political.
His beef was that while that misunderstanding was yet to be solved, Mercy was travelling out of the country without his consent and that there was no way he could complete the movie without her.
An eyewitness told NEWS-ONE that Socrates was literally misbehaving and that Mercy felt very embarrassed because a small crowd had started to gather.
When NEWS-ONE called Socrates on phone over the matter, he used a type of foul language that does not merit being repeated in print.
'You have already written your story so there is nothing I would tell you that would change your mind,' he added and cut the call.
Sources from his Africa Movie Productions however told NEWS-ONE that Mercy Asiedu, before flying out, eventually agreed to shoot the movie and had to follow Socrates and his crew to a location at East Legon in Accra to shoot a few scenes.
Our source said an agreement was reached that the scenes in which Mercy was to appear would be skipped and filmed when she returns.
Source: NEWS-ONE