Between Hiplife & TwiPop; Highlife is the answer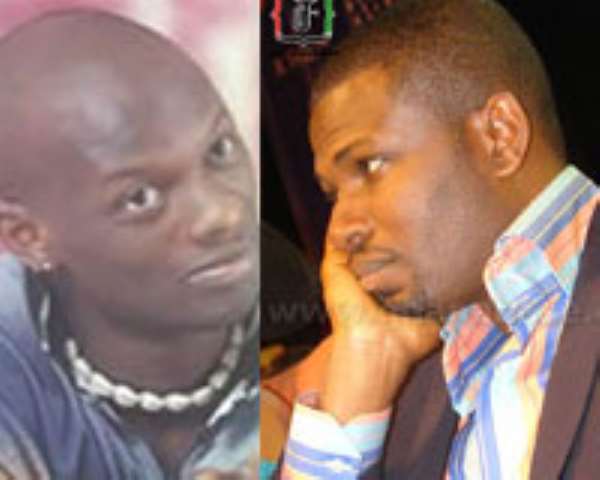 Lord Kenya (left), Mark Okraku Mantey (right)
The upcoming Highlife Festival slated on the 24th June, 2011, has sparked a lively debate on its effect on the music industry in Ghana. Some music critics even believe that the event would do more than project new entrants into the music industry.
One critic, Mark Okraku Mantey has fallen in love with the Highlife Festival, a music genre that he has launched a one-man crusade to promote.
Mark Okraku Mantey has been organizing regular highlife music gigs to keep highlife music popular in the country. In his estimation, the music industry is revolving into a money-spinning industry, likely to project Ghana into the next music level.
According to the ace music producer, some Hiplife artists, particularly Lord Kenya, who he once promoted, were able to make ground breaking sales throughout the country. The introduction of highlife sampling to their music got both the young and old dancing to the music.
Mark Okraku says Hiplife grand papa, Reggie Rackstone, for instance, was able to establish hiplife by sampling old school highlife songs, and got Ghanaians falling in love with the new highlife variation, Hip life.
Some other musicians in the industry, who have gone the way of old sampling of highlife music, include Obrafuo, Praye, 4×4 , BukBak, VIP and quite recently Dr. Cryme, who has taken the air waves by storm, with his latest hit track 'Kill Me shy'.
Dr. Cryme, for instance, has moved away from the popular hiplife to what he has termed as Twi Pop.
Meanwhile, the baseline of making this new genre of music originated from the traditional Highlife music, which has been kept going by the likes of Asabea Cropper, Gyedu Blay Ambulley,  Amakye Dede, Kojo Antwi, Pat Thomas and Daddy Lumba, just to mention a few.
Accra and Tema seem to have popularized the new Twi pop, which is Hip pop in disguise.
However, most of these musicians could not maintain their new found identity in the music industry. Maybe it would be better if they go back to their true traditional music identity, to unearth their hidden talents, by sampling some of the old highlife tracks from the past, which Ghanaians can be identified with.