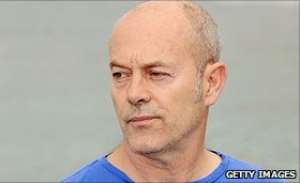 Keith Allen is both director and narrator of Unlawful Killing

British documentary Unlawful Killing was the focus of attention for the media at the Cannes Film Festival on Friday.
Its makers claim the film throws light on circumstances surrounding the death of Diana, Princess of Wales in 1997.
But at a stormy media conference after its premiere, director Keith Allen was repeatedly asked to explain what new evidence he believes the film contains.
Allen disagreed with suggestions he should have made it clear on screen that the film was funded by the businessman Mohamed Al Fayed, saying it would have interrupted the film's flow.
Conor Nolan, Mr Al Fayed's spokesman, said the former owner of Harrods had invested £2.5m in the documentary.
Mr Al Fayed's son, Dodi, was also killed in the crash as well as driver Henri Paul. The sole survivor, Trevor Rees-Jones, does not feature in the film.
In its structure, Unlawful Killing is like many documentaries seen on TV.
Narrated by Allen, it is a mixture of archive footage, new interviews, graphics and reconstructions of scenes from the 2007 inquest in London.
Only music by Dave Stewart gives a slightly more cinematic feel.
Allen said the producers initially sought funding from TV organisations in the UK, including the BBC. When the project was universally rejected, they were happy to accept finance from Mr Al Fayed.
Allen insisted Mr Al Fayed had had no editorial input, although he appears in several sequences. At one point he is seen burning Harrods' former 'By Royal Appointment' signs, a short distance from his son's grave in Surrey.
The film is more about what happened after the death of the Princess and less concerned with conspiracy theories about how it happened.
It includes the use of photographs taken soon after the accident, although this forms only a small part of the narrative.
Allen said the documentary had not been difficult to make.
"It virtually made itself because of what was being revealed in the inquest.
"I thought it was important the public got to understand, in a forensic manner, what was happening.
"I didn't want to make a sensationalist film and I don't think it is a sensationalist film. But I think it reveals certain things which don't add up and they should be questioned.
"That's what the film is about - I believe the inquest was steered," said Allen.
An inquest jury found that the Princess had been unlawfully killed by the grossly negligent driving of Henri Paul and those vehicles in pursuit. The film implies that 'following vehicles' were not necessarily the paparazzi.
When asked to explain what was new in the film, Allen said "I don't believe there is too much that is new."
"There's an old saying that the best kept secrets are on the shelves at the British Library. If you take all the information and put it into a certain shape then two plus two starts to make four.
"I've used available information, but I've put it in a certain way."
Allen said he hopes the documentary will still be shown in the UK - although British lawyers have suggested that a number of editorial changes would have to be made - and may feature at this year's London Film Festival.