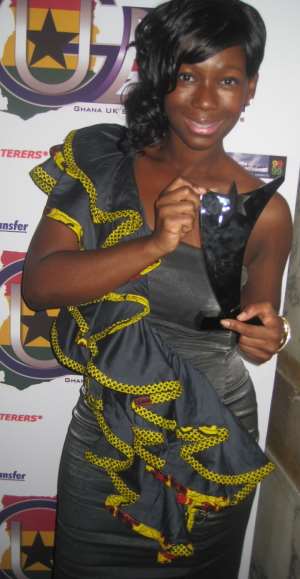 Presenter-Actress Ama K. Abebrese holding GUBA Award
(HOLLYWOOD, Oct. 25, 2010) – Much anticipated psycho-drama "Sinking Sands" lead actress Ama K. Abebrese won Best Media Personality at the Ghana United Kingdom Based Achievement (GUBA) Awards on Sunday, Oct. 24, at the Porchester Hall in Bayswater, London, England.
"I am elated to be the recipient of the Best Media Personality at the GUBA's. It's great to be recognized for my work within the media in the United Kingdom," said a joyful Ama K. "Winning this award has made me more determined to strive and achieve more within the media industry, both in front and behind the camera."
Organized by Nudent, the annual awards show was created to celebrate all that is best about Ghanaian business and personalities in the United Kingdom, acknowledging their achievements and hard work.
"I am so proud of Ama K.," smiles Africa Academy-nominated director Leila Djansi, who also directed Ama K. in upcoming, much anticipated psycho-drama "Sinking Sands." "If anyone deserves this recognition it's her. I love her, and this is only the beginning."
The only woman nominated in her category, Ama K.'s nomination is based on her hosting signature talk show "On the Sofa," which was also nominated for Best TV Programming. The Ghanaian-born British presenter began her showbiz career on the little screen at YCTV (Youth Culture Television) in 1997, where she caught her big break when she interviewed Hollywood-great Harrison Ford, and later moving on to OBE TV as a regular personality during her seasoned career. Ama K is transitioning into film, starring in her first lead role in "Sinking Sands," premiering in Accra, Ghana on Nov. 13, at the National Theatre.
Ama K said, "To be nominated for two awards was a great honor, and I feel blessed to have won one and thank you everyone who voted for me. The sky is really the limit; again, I feel so blessed."