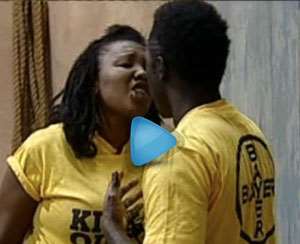 Hannington and Lerato got physical during the argument

A simple discussion and a subsequent argument Tuesday turned sour when Hannington and Lerato physically attacked each other.
The nasty incident occurred when Barnmates were discussing issues affecting the African continent. Hannington and Lerato got into an argument over certain aspects of the discussion which subsequently resulted in the fight.
Big Brother called both Barnments in different Diary sessions to address the issue and Hannington who swore never to hit a woman felt guilty for his actions and wanted to 'leave' the Barn.
Lerato on the other hand said she may forgive Hannington but will never forget the incident. Big Brother called for professional counselling for the two.
Big Brother asked Hannington to apologise to Lerato and the Barnmates. After the Diary session, teary Hannington called the Barnmates and apologised to them. He later rendered Lerato an unqualified apology.
Big Brother later called all the Barnmates together on the brawl. He called for a deeper understanding in the Barn and also called for violence-free Barn.
Watch excepts of the fight below
Story by Ernest Dela Aglanu/Myjoyonline.com/Ghana