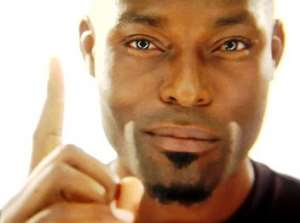 Jimmy Jean Louis

Haiti born Hollywood actor Jimmy Jean Louis has expressed a need for African movie makers to lift up their game to rock with the best in the international scene.
According to him, even though the African continent has a lot of potentials in movie making, industry players are not really taking advantage of it. "I believe there are a lot of potentials here within Nollywood, Ghana's movie industry and some of the neighboring African countries doing movies."
Unfortunately, the movies only stay within the African continent or stay in the households of Africans living in the Caribbean. It does not really cross over," he said in an encounter with Newsone and a section of the local media.
He was optimistic that if only African movie makers take their destiny into their own hands and change slightly, the quality of African movies will not only cross over into Hollywood but will make an impact there.
According to him, Africa must improve their stories and make them universal so that other people in other countries can relate to them.
Currently, he said a few bigwigs in Hollywood only hear about African movies but they don't even pay attention to it.
"The business people hear about the phenomenon, which is Nollywood but unfortunately I don't think somebody is watching at all because of the quality."
"Myself, I appreciate everything that is being done within Nollywood and Africa as a whole but I can't finish watching some of their movies. I start and I can't finish watching because of the quality.
"But at the same time, I hear the movies sell profitably. The audiences here really appreciate these movies. But if we want to cross over into the international market, then we should be able do great stories. Don't get me wrong," he stressed.
Jimmy is playing the lead in Leila Djansi's 'Sinking Sand' as the lover of Ghana's rising international icon Ama K. Abebrese. He is best known for his role as 'The Haitian' on NBC's hit drama series 'Heroes.'
He had his big screen break when he nabbed a role in Jean Claude Van Damme's 'Derailed.' That set the stage for subsequent roles with other Hollywood notables. He went on to secure the role of Gideon in 'Tears of Sun' (Columbia pictures 2003), starring Bruce Willis and Monica Bellucci and directed by Antoine Fuqua.
He also shared the big screen with Jane Fonda and Jennifer Lopez in New Line Cinema's 'Monster-in-Law' in 2005. He has also played major roles in movies such as 'Hollywood Homicide', 'The Game of Our Lives, and 'Phat Girlz', starring opposite Academy Award winner Mo'Nique as her love interest.
Jimmy-Louis is also the founder of Hollywood Unites for Haiti, a nonprofit organization dedicated to exposing and educating underprivileged youth of Haiti to the arts and sports. He is currently concentrating his efforts on Haiti after the devastating earthquakes.
His role in supporting the people of Haiti after the tragic event has been well recognized with several honours, including one at the White House recently.