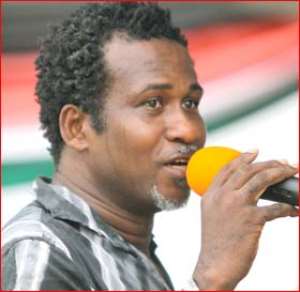 Lucky Mensah
SEASONED GHANAIAN highlife musician, Alex Mensah, aka Lucky Mensah, who sang on the platform for the National Democratic Congress (NDC) during the 2008 campaign, and complained bitterly about being neglected by the NDC, left the shores of Ghana for the United States, to seek greener pastures.
Lucky Mensah composed and sang the popular hit song Come back to me and even converted this same song into an NDC campaign song.
The highlife musician, who out frustration decided to leave the country, left on Sunday afternoon. He was seen off at the airport by his manager and a social commentator, Joseph Bediako.
Whilst in the States, Lucky Mensah will work on his unfinished musical album which is to be released later this year.
BEATWAVES' investigation revealed that ever since Lucky Mensah stood on the campaign platform to sing for the NDC's change for a 'Better Ghana' agenda, he has been shunned by majority of Ghanaians, making his music unattractive and life unbearable for him.
His album sales have grounded ever since he campaigned for NDC. This is because, music fans have refused to patronize his music.
 By George Clifford Owusu